The Presidential Election of 1876
In the centenary year of the Declaration of Independence, a close and bitter election was fought, in the shadows of scandal and fraudulence.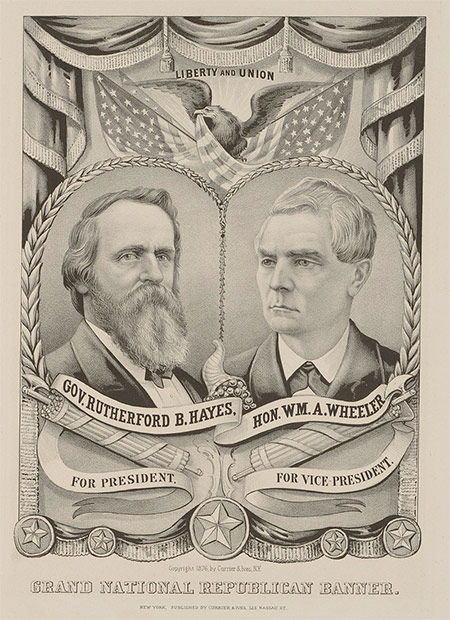 Republican election poster
In the summer of 1876 the United States celebrated a centenary of independence. Although it was a jubilee year, the American Republic was also deeply troubled. The desperate battles of the Civil War had ended more than a decade before; yet Abraham Lincoln's call for 'malice toward none' remained an unfulfilled appeal, as Federal troops continued to occupy some of the former Confederate States. President Ulysses S. Grant's second term of office was drawing to a close under a barrage of criticism directed at corruption in his government. The coming Presidential election would take place in November.
It promised to be an exciting fight, but no one foresaw that the struggle between Republican Rutherford B. Hayes and Democrat Samuel J. Tilden would result in an unparalleled scandal and bring America perilously close to another civil conflict. Indeed, the roots of the dispute were firmly woven into the Civil War and its tragic aftermath.
On April 9th, 1865 General Robert E. Lee surrendered the Army of Northern Virginia and the guns at Appomattox stopped firing. The Civil War drew to a close. In four years of grim fighting the troops of both sides had developed a respect for each other, a bond of harsh experiences mutually endured. Now Yankees shared their rations with Confederates and traded wartime stories.