Mark Bryant looks at the artist behind one of the most iconic images of the 20th century.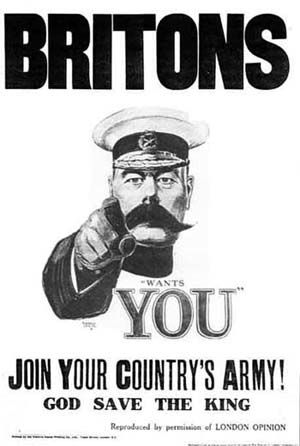 Though a contemporary of such well-known graphic artists as David Low, 'Fougasse', Heath Robinson and H.M. Bateman, the cartoonist Alfred Leete is not widely known today. Yet one of his drawings, originally a cover illustration for the now long-forgotten penny weekly magazine London Opinion, remains one of the most famous posters of all time. For Alfred Leete was the designer of the celebrated and much imitated First World War recruiting poster 'Your Country Needs YOU', featuring Lord Kitchener, the Secretary of State for War and his dramatic pointing finger.
Alfred Ambrose Chew Leete was born on August 28th, 1882, in Thorpe Achurch, Northamptonshire, the eldest of the six children of John Leete, a farmer, and his wife Harriet. Due to ill health, his father gave up farming and in 1893 the family moved to the seaside resort of Weston-super-Mare, near Bristol, where his parents set up and ran a boarding-house and hotel business.