Byron's love affair with bare-knuckle boxing was shared by many of his fellow Romantics, who celebrated this most brutal of sports in verse. John Strachan examines an unlikely match.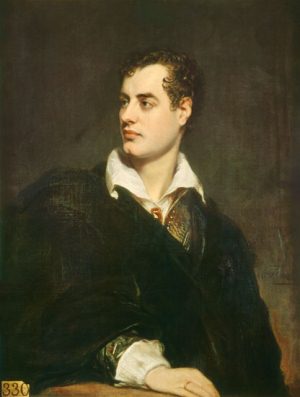 Portrait of Lord Byron by Thomas Phillips
In May 1808, the gentlemen of 'the Fancy', the fraternity  of moneyed, often aristocratic patron-gamblers and rough-hewn fighters at the heart of contemporary pugilism, gathered with more than a thousand other enthusiasts to watch a title fight for the Championship of All England held in Sir John Sebright's park in Hertfordshire. The protagonists were John Gully, the reigning champion, and Bob Gregson, the 'Lancashire Giant', fifteen stones in weight and over six ft tall. Watching them was Pierce Egan, the leading boxing journalist and the most notable early historian of the profession in England. Egan charted the progress of bare-knuckle boxing from its emergence in the early eighteenth century to its decline in the 1830s. His chronicles of concussion are well known to sports historians, but what is less familiar is the fact that he was also a poet of some facility. Egan included an anthology of pugilistic verse in the first volume of Boxiana, or Sketches of Modern Pugilism (1812-29), his hugely successful series of boxing histories, and peppered his successful novel Life in London (1821) with comic and lyrical poetry. The Irish poet Thomas Moore described him as 'the Plutarch of the Ring'.