Jerome de Groot muses on how authors of historical fiction try to flesh out the bare bones of history, drawing on old and new works.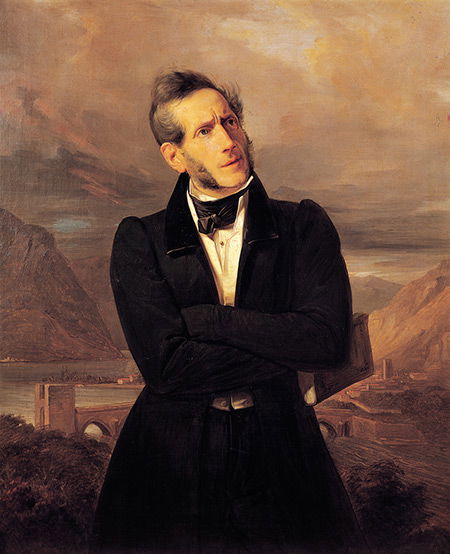 As part of my ongoing research into historical writings across the ages, I have been reading one of the key original historical novels, Alessandro Manzoni's The Betrothed (I Promessi Sposi, 1827). It is an adventure-romance set in Italy in the late 1620s, containing war, famine, love, plague, religion and many bandits. Praising its originality and structural integrity as a novel, Edgar Allan Poe suggested that it 'promises to be the commencement of a new style in novel writing'. His enthusiasm was well founded and Manzoni's immediate style and way of seeking the romantic in little-told narratives of the past proved influential across Europe. It is also an important foundational novel for Italian nationalism, outlining the vernacular lives of the native peasantry as they chafed against Spanish occupation. It is a corker of a book, twisting and turning, and shows the novel at a strange pass between the romance and Gothic impetus of the previous century and the psychological realism of the coming one. Manzoni was one of the very first theorists of historical fiction, writing On The Historical Novel while revising The Betrothed for its 1840 publication. Hand in hand with the establishment of the genre in the early 19th century went a methodological discussion about its purpose and effect. This can often be seen in the prefaces that authors write to their works, moments of explanation when the writer justifies their practice. This type of historiographical intervention as part of the metatext of the novel is common to practitioners from Wilkie Collins to Margaret Oliphant, from Walter Scott to George Eliot. Their self-consciousness about the form has a residual importance to modern iterations, as can be seen in the near-ubiquitous 'Historical Note'. 
In his essay, Manzoni outlined key ideas about writing fictional history and reckoned that the historical novelist offers 'not just the bare bones of history, but something richer, more complete. In a way you want him to put the flesh back on the skeleton that is history'. The historical novel can make the reader understand the bodily and create a kind of corporeal sympathy with the past. It can render something 'richer, more complete' in a way that mainstream historical accounts cannot. 
One way that historical novels do this is by concentrating on bodies themselves and how they are turned back into skeletons without flesh. Historical detective and thriller fiction allows the author to reveal the workings of society and to highlight various differences between the then and now. It gives an impetus to the understanding of historical difference and allows a character to legitimately investigate the way that a society works. Ways of understanding, defining and punishing criminal mentality, action, and psychology are evidently historically contingent and criminological definitions and practices are hence fundamentally important in understanding pastness (as historians of many ages, including Michel Foucault, have pointed out). Crime is also a social disorder, allowing writers to place particular modes of behaviour under the microscope. Sometimes this genre can fall into an uneasy historical equivalence in attempting to 'understand' past crime, a kind of sense that while things change, the desire to kill others stays the same. Yet the best examples use their 'detective' characters to reveal far more than the identity of the killer. 
So what do we have in this genre to consider for now? A selection from a cross-section of historical moments, with a range of different approaches. M.J. Carter's The Infidel Stain (Fig Tree) is a nicely executed novel about the death of a printer. It touches upon mania, religion, extreme poverty and radical politics, mainstays of Victorian novels but highlighted rather well. In some ways the problem here is that it is not nasty enough – novels such as Michel Faber's The Crimson Petal and the White (2002) have pointed out the explicitness and grimness of Victorian London – although the crimes themselves are pretty grisly. The novel has moments that echo other classic neo-Victorian tropes (there are hints of Holmes, Ripper Street, Jack the Ripper, From Hell, Sally Lockhart and even Flashman here) and, as this range demonstrates, it could be argued that the primary way we understand the 19th century is through its criminality. This in itself is an historiographical shift from the whitewashed 'Victorian values' of several decades ago (see the journal Neo-Victorian Studies www.neovictorianstudies.com for further discussion of this kind of phenomena). 
D.K. Wilson's Traitor's Mark (Little, Brown) is also interested in images and prints. Concentrating on the artist Hans Holbein and the world of Tudor London (a London stuffed with the echoes of other writers from Mantel to C.J. Sansom), Traitor's Mark is breathless and fun to read. It bowls along, with some neat bits about minority populations (German) in London that work well. Finally, Lindsey Davis' Deadly Election (Royal) returns fans of her work to the character of Flavia Alba in ad 89. Alba is the adopted daughter of Marcus Didius Falco, Davis's hugely popular 'informer', and her own series is developing nicely. She is spiky and rebellious and iconoclastic and the books are entertaining. The wisecracking is not totally to my taste but there is a clear echo of contemporary crime writing here.
How much do these novels tell us about their historical moments? They certainly investigate strata of society generally unnoticed by mainstream history and they are deeply interested in the lived experience of day-to-day life. They do not shy away from extreme violence and suggest often that the crimes of the past will surface in the present. They are interested in what David Peace calls 'occult' history (Hilary Mantel's Wolf Hall also has an 'occult' history of Britain as one of its chapters). This is history that is unseen. Understanding the past through its crimes allows us to think about what is recorded and why, what is unseen, how things really come to pass. These novels, though, are maybe more interesting for what they tell us about our contemporary ways of engaging with history. Historical crime fiction is a huge-selling genre and suggests an expanding interest in the venal, the grim, the shadowy and the dark in our modes of seeking to understand the past.
Jerome de Groot's latest book is Remaking History: The Past in Contemporary Historical Fiction (Routledge, 2015).