New York-to-Paris Race, 1908
Roger Hudson takes a roadside view of the automobiles about to embark on the arduous, 22,000-mile journey.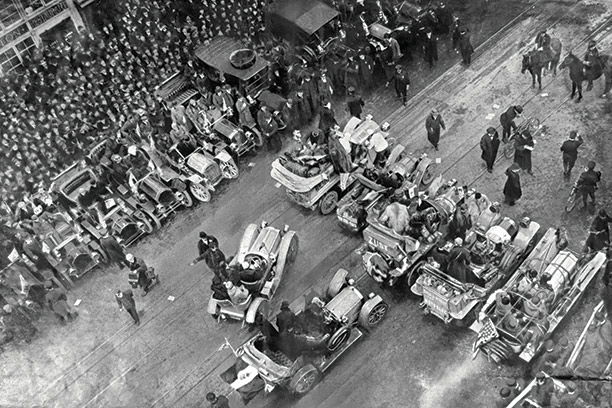 It is snowing in Times Square, New York, on February 12th, 1908 as six automobiles line up at the start of a 22,000-mile race to Paris. Along Broadway 250,000 people cheer them on as they head north: three French vehicles, De Dion, Sizaire-Naudin and Moto-Bloc; one German Protos; one Italian Zust; and the American entry, a Thomas Flyer. The route they plan to take is across the US via Chicago to San Francisco, from there by ship up to Alaska, across the Bering Straits (which it is hoped will still be frozen), through Siberia to Moscow, then St Petersburg, Berlin and finally Paris. The previous year there had been a race from Paris to Peking, won by Prince Scipio Borghese whose prize was a magnum of champagne, but this is the big one, sponsored by the New York Times and Le Monde.