Napoleon III: 'Hero' or 'Grotesque Mediocrity'?
Roger Price examines the career of Louis-Napoleon, the nephew of Napoleon Bonaparte, and his position in French historiography.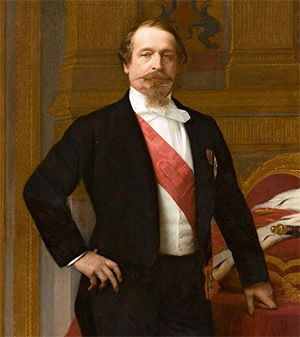 Karl Marx, in the 1869 preface to his article on The Eighteenth Brumaire of Louis Bonaparte, a brilliant piece of political journalism written in 1852, described his purpose as being to 'demonstrate how the class struggle in France created circumstances and relations that made it possible for a grotesque mediocrity to play a hero's part'. The 'mediocrity' in question was a certain Louis-Napoleon Bonaparte, born on 20 April 1808, the son of Louis, appointed King of Holland by his brother Napoleon I, and of Hortense de Beauharnais, daughter of the Emperor's first wife Josephine. As a result of the couple's separation and the exile of the Bonaparte family from France, Louis-Napoleon was brought up by his mother at the château of Arenenberg in Switzerland, surrounded by memories of Empire. In addition to childhood socialisation, another formative influence on the young prince was to be the unfortunate experience in 1830-31 of joining his elder brother Napoleon- Louis in the disastrous struggle in Italy against Austrian occupation and the temporal power of the Papacy, during which, after both princes contracted measles, the elder died.
Another death, that of Napoleon's son, the so-called Duc de Reichstadt in 1832, left Louis-Napoleon determined to assert his claim to be the great Emperor's heir. As a result of his family background and upbringing he possessed an intense sense of personal destiny and faith in his historical mission. In his determination to become guardian of the Napoleonic tradition he combined the outlook of a romantic mystic with the instincts of a political opportunist. His friend from childhood, Madame Cornu, would describe his 'mission' as a