Munich Agreement is Signed
The short-lived settlement was signed on September 30th, 1938.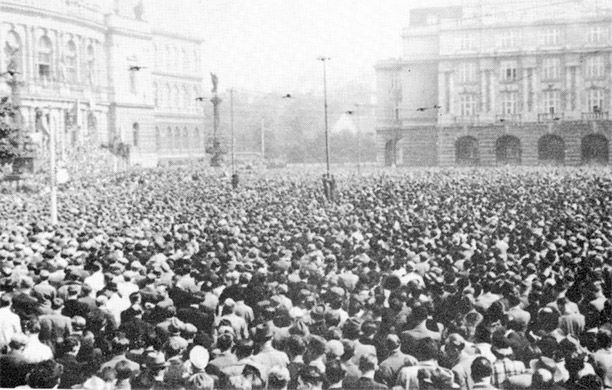 'If you have sacrificed my nation to preserve the peace of the world, I will be the first to applaud you. But if not, gentlemen, God help your souls!' So spoke Jan Masaryk, son of the founding father of the Czechoslovak Republic, on the surrender to Hitler sixty years ago of all his demands by Britain and France.
The Munich Agreement, signed shortly after 1.00am on September 30th, 1938, gave Hitler what he demanded without a finger being lifted in the interest of the Czechs. The two most powerful democracies in Europe gave in to a bully and thus encouraged his attempt to dominate Europe. Yet, it seems that not even the German people wanted a war then. A report by William L. Shirer, German CBS correspondent, notes, 'On September 27th, as workers were leaving their offices, Hitler paraded his motorised divisions in Berlin... He was hoping for a cheering crowd but instead people scurried from the streets... It has been the most striking demonstration against war I've ever seen.'
Czechoslovakia had only existed since the end of the First World War. It was formed at the Treaty of Versailles and comprised of 14 million people from Bohemia, Moravia and other smaller nations. In the north, in Sudentenland lived 3 million German-speaking people. It was they whom Hitler was to use as his bargaining chips. These people were led by a man called Konrad Henlein who had stated in 1936 that, as Sudentenlanders, they felt part of the cultural community of Germany. Hitler claimed that he only wanted justice for those Germans in Czechoslovakia and did not want a war.