The First Modern Olympic Games
In the first games, which began on 6 April, 1896, 241 athletes from 14 countries competed in 43 events.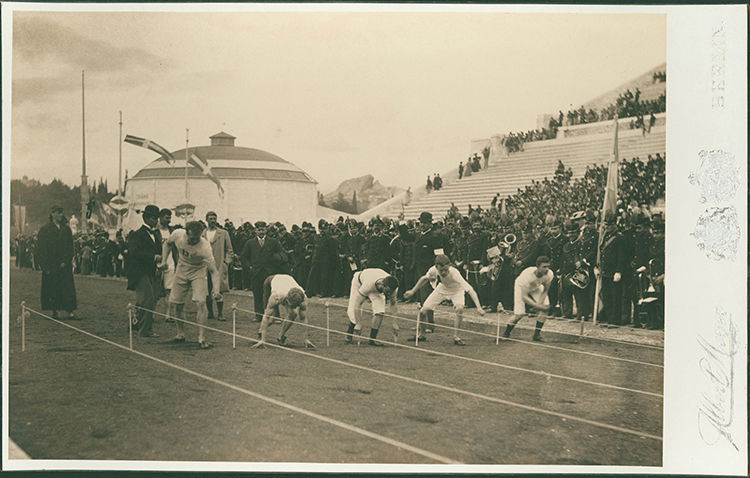 The modern International Olympic Games credit as their founder Baron Pierre de Coubertin (1863-1937). Coubertin was of the belief that 'organised sport can create moral and social strength', which, having visited Rugby School in 1883, he believed explained Britain's power. He looked, too, to the Athenian gymnasium. As well as being a romantic, his ideas had a practical motivation and he hoped his efforts would produce a generation of young men better suited for war, a response to France's defeat in the Franco-Prussian War.
This came together in the foundation of the International Olympic Committee, of which he was president until 1924. The first modern International Olympic Games were held in Athens in 1896.
This was not the first time the Olympic Games had been resurrected and through the 19th century many local sports festivals had been inspired by them. In 1850 William Penny Brookes founded the Wenlock Olympian Games in Much Wenlock, a village in Shropshire, which Coubertin visited and later praised in an article for La Revue athlétique. The Wenlock Games included athletics, football, cricket and a blindfold wheelbarrow race. In the 2012 London Olympic Games, one of the official mascots was called Wenlock in honour of those games.
In the first official Games, 241 athletes from 14 countries competed in 43 events (although sailing and rowing had to be cancelled due to poor weather).
For the 1,200m swimming race, contestants were taken out to sea by boat and had to swim the distance back to shore. The winner, Hungarian Alfréd Hajos, later dubbed 'the Hungarian Dolphin', found the ordeal such that, 'My will to live completely overcame my desire to win.' Later, apparently having recovered, when asked where he had learned to swim so well, he answered: 'In the water.'
The Australian Athletics competitor, Edwin Flack, had originally only come to Athens as a spectator, but later decided to compete – he won both the 800m and 1,500m races.
Women, however, were not allowed to compete, as Coubertin thought this would be 'impractical, uninteresting, unaesthetic and incorrect'. In large part, though, his vision survives unchanged.