Mill and Emerson: Sense and Nonsense
Frank Prochaska has made a remarkable discovery in the personal library of John Stuart Mill. It proves that Mill not only read the works of his American contemporary, Ralph Waldo Emerson, but was surprisingly harsh in his judgement of him.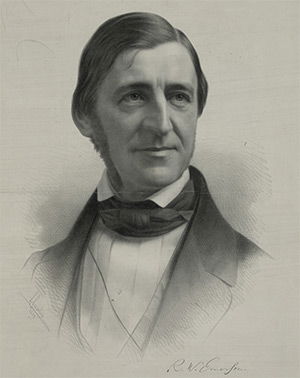 Lithograph from a photograph of Emerson in 1859
The words 'fudge', 'nonsense', 'oh', 'pooh', 'sentimental', 'superficial', 'stupid', 'very stupid', 'trash' are among the many pencilled annotations dotting the pages of John Stuart Mill's personal copies of Ralph Waldo Emerson's Essays. They constitute something of a revelation. Imagine finding Kant's marginalia on Hume's philosophical writings, or George Eliot's annotations on Jane Austen's novels. There is an assumption among scholars that little can be said about the opinion Mill, the preeminent English thinker of his age, held of Emerson, equally preeminent in American thought. In a recent book on the political ideas of the two men, Alex Zakaras remarks that 'it seems that Mill never read any of Emerson's writing, so we can only speculate as to what he would have thought of it'. We now know that he at least read the Essays – which are largely responsible for Emerson's standing as a philosopher – and had something intriguing to say about them. As might be expected, the annotations tell us more about Mill than they do about Emerson.