Though the Euro may seem modern, its roots go back to the 9th century. Simon Coupland introduces the single European currency of Louis the Pious.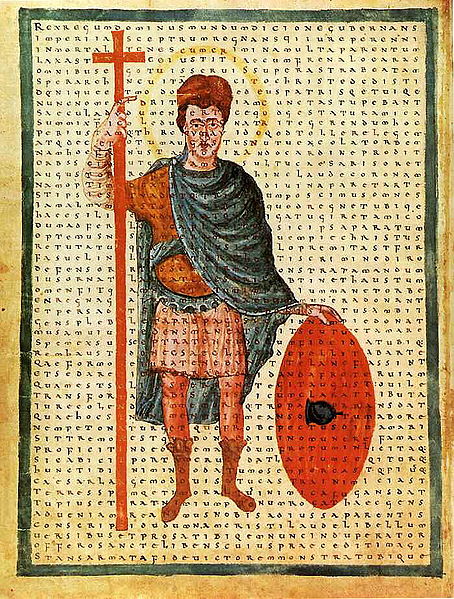 Louis the Pious, contemporary depiction from 826 as a miles Christi (soldier of Christ), with a poem of Rabanus Maurus overlaid.
Everyone has heard of Charlemagne, whose rule over most of continental western Europe is rightly celebrated. Fewer know of his son Louis the Pious, who reigned as sole emperor over the same vast territory from 814 to 840. Indeed, Louis is so overshadowed by his illustrious father that the most significant work about his reign is called 'Charlemagne's Heir', and one of its chapters, albeit ironically, is entitled 'The great emperor's little son'! Yet in one area at least Louis the Pious achieved something which no other medieval ruler, including his famous father, managed to do: he created a single unified coinage which was minted from the Spanish march in the south to Frisia in the north, and from Brittany in the west to the borders of the Slav lands in the east. This 'Christiana religio' coinage, named after its reverse inscription, was in effect a single European currency.