The Marriage of the Winter Queen
The wedding of Elizabeth Stuart and Frederick V took place on February 14th 1613.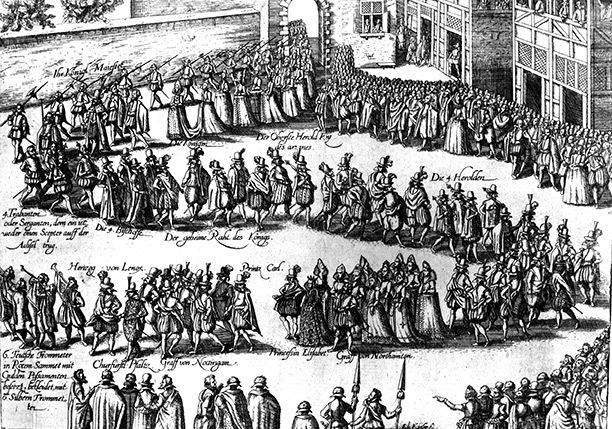 Born in Scotland in 1596, Elizabeth Stuart was the eldest daughter of James VI of Scots and the granddaughter of Mary, Queen of Scots. She moved to England as a child of six in 1603, when her father became James I, and grew up at Combe Abbey in Warwickshire, learning fluent French and Italian as well as enjoying riding, music and dancing. In 1605 the Gunpowder Plotters planned to kill her father and put her on the throne in his place, as a Catholic monarch. She joined the court in London aged 12 in 1608.
Elizabeth was admired for her golden-haired looks and her father considered many husbands for her, aiming for the maximum political advantage. Almost all were Protestant princes, as was the one finally chosen, Frederick V, Count Palatine of the Rhine, the leader of a group of Protestant rulers in Germany. The marriage contract was signed in May 1612, despite the misgivings of her mother, Anne of Denmark, who thought her daughter was marrying beneath her.
Count Frederick arrived in England early in October and he and his future bride, both of them 16 years old, met for the first time in Whitehall Palace in London. After that they spent plenty of time together and they seem to have been genuinely attracted to each other. They were both zealous Protestants. His English was rudimentary and she had no German, so presumably they conversed in French. She enjoyed teasing him because he was shorter than her. The wedding was delayed by court mourning for Elizabeth's adored older brother, Prince Henry, who died in November, but was finally romantically scheduled for Valentine's Day 1613 in the royal chapel at Whitehall Palace.
In her last days as a spinster Elizabeth bought herself 17 pairs of silk stockings as part of her 'very rich' trousseau and went with Frederick to six plays by Shakespeare. There was a tremendous fireworks display on the Thames three days before the wedding and on the afternoon before, a Saturday, Londoners and the court watched a mock sea battle on the river between 38 vessels representing Christians against Turks, in which several of those involved were badly injured.
On the day itself crowds gathered to watch Elizabeth make her way to 'the union of Thames and Rhine' in a white gown embroidered with silver, her train carried by 13 or more bridesmaids. The chapel was small and there was much squabbling over places before Elizabeth and Frederick were married by the Archbishop of Canterbury. Masques were performed at the festivities and plays and poems celebrated the union as a triumph over the evil of popery. The best tribute to the occasion was John Donne's poem Epithalamion, in which the bridal couple are likened to two phoenixes:
Whose love and courage never shall decline
But make the whole year through, thy day, O Valentine.
In April they left for Heidelberg, Count Frederick's capital, with a sizeable English entourage. Elizabeth enjoyed spending money and they lived in style. She liked to be surrounded by her dogs and her pet monkeys. The first of their 13 children was born on January 1st, 1614. In November 1619 they became king and queen of Bohemia; Elizabeth was known from then on as the Winter Queen. After only a year the Emperor Ferdinand II, a Catholic, expelled them from Bohemia by force and his troops seized the Palatinate.
Elizabeth and Frederick fled to The Hague, where she would spend almost all the rest of her life. Beautiful, strong-minded, determined and intelligent, she became the dominant partner in the marriage and kept up an extensive correspondence with powerful rulers and influential clergy and diplomats in Europe to gain support for Frederick and the Protestant cause, though in vain. She also exchanged letters with the philosopher Descartes on matters mathematical. A Protestant heroine, her beauty and courage inspired veneration of 'the Queen of Hearts' (though Catholics resentfully called her 'the Helen of Germany'), but she did not gain the support she wanted from her father in England or from her brother Charles I.
Elizabeth was devastated by Frederick's death in 1632. She was offered asylum in England but declined for fear of sabotaging her own and her children's claims to the Palatinate, which she continued to pursue tenaciously. Her son Charles Louis regained the Palatinate in 1648, but she remained in Holland. She went to England at last in 1661, after her nephew Charles II had been restored to the throne, and died in London the following year, aged 65. She was buried in Westminster Abbey, next to her much-loved brother Henry.