The Lure of the Georgian Age
Penelope Corfield provides an overview of the many recent lively and entertaining studies of 18th-century Britain.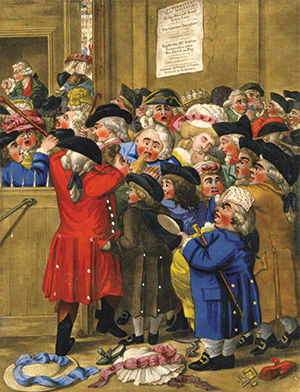 Yes, the 18th century is hot in terms of historical research into British history. You don't believe me? You are thinking of dull Hanoverians in bland 'pudding-time' or trying to recall old battles like Ramillies and Blenheim, which now no schoolchild knows. Think again. The British Library, which keeps its finger on the pulse of public intellectual life, is hosting a scintillating exhibition, The Georgians Revealed: Life, Style and the Making of Modern Britain. And it is getting glowing reviews. (It runs until March 11th, 2014.)
One reason for the eager interest among historians is that very few of them have studied this period at school. That makes it, in research terms, terra incognita – always attractive to the adventurous. True, it is not gaining quite as many research students as the hottest research area, which is, predictably, the 20th century, as it shifts from current affairs into history. But the long 18th-century or Georgian era (from c.1700 to c.1830) has its own allure. It has great and under-studied sources, of which more below. Furthermore, it has lots of old debates to be reconsidered and new ones to generate. For that reason Georgian studies constitute not a settled constellation but an exploding galaxy.
Each year well over 2,000 'units of output' – in the unlovely terminology of university research assessment – appear in Britain on 18th-century British history. Moreover, to that total should be added many more books and essays published overseas, as well as relevant studies in cognate disciplines, such as art history or literature. Therefore it is hard to keep up to date on every aspect. On the other hand the 18th-century literary gloss rubs off upon its scholars. As a result, many books on the Georgians are a delight to read. 
Within this broad field there have been numerous shifts of research interest. During the mid-20th century there was a 30-year academic war between Lewis Namier and his opponents over their interpretations of Georgian politics. By the 1960s, however, those battles had been fought to a stalemate, although fruitful debates about the nature of the Georgian regime and of Hanoverian kingship continue. Try Hannah Smith's Georgian Monarchy: Politics and Culture, 1714-60 (Cambridge, 2006) or Jeremy Black's George III: America's Last King (Yale, 2006). But the detailed study of 'high politics' (the doings of Westminster politicians) has almost atrophied.
Instead the main research interest shifted in turn to urban history, social history, gender history, sexual history, fashion history and, especially from the 1990s, cultural history, while, more quietly, religious history, intellectual history, the history of science/medicine, legal history, military history, diplomatic history and imperial history continue to command their own relatively specialist cadres.
Alongside these fluctuations there has also been an even longer 100-year academic war among another relatively small and specialist group of scholars. Since the 1880s, when Arnold Toynbee first popularised the term Industrial Revolution in English, researchers have argued over the onset (or otherwise) of Britain's economic transformation and its impact (either favourable or otherwise) upon living standards. Some of the battles were arid. The advent of quantitative economic history from the 1970s onwards also deterred all but the most highly numerate, who were prepared to debate the issues at a level of impersonal abstraction. But accessible studies of high quality are still produced: try Robert C. Allen, The British Industrial Revolution in Global Perspective (Cambridge, 2009); or Joel Mokyr, The Enlightened Economy: An Economic History of Britain, 1700-1850 (Yale, 2009).
Furthermore there was one literary and humanist superstar among the protagonists. He was E.P. Thompson, an independent scholar and left-wing public intellectual of a practically  vanished breed. His Making of the English Working Class (1963, and still in print 50 years later) presents a pessimistic interpretation of working-class living standards but a positive one of working-class cultural cohesion. All aspects of Thompson's work are contentious and have been much contested. These days, however, the study of historical class is out of fashion. 'Identity', whether gender, sexual, ethnic, religious or communal, holds sway instead. Yet Thompson's urging that past cultures should be studied with attentive empathy, rather than with lofty condescension, remains an inspiration to scholars of all periods – not just to those working on the Georgians.
The most recent research trend brings socio-cultural and economic history back together in the study of globalisation. It covers both the movement of goods and the meetings of cultures; for example, Maxine Berg's Luxury and Pleasure in Eighteenth-Century England (Oxford University Press, 2005) or Maya Jasanoff's Edge of Empire: Conquest and Collecting in the East (Fourth Estate, 2005).
So great is the continuing output of important new studies that it is invidious to pick out individual examples. That is particularly the case because each different sub-field has its own key works and key debates. To give an idea of the range within social history, see Susan Whyman, The Pen and the People: English Letter Writers, 1660-1800 (Oxford University Press, 2009); or John Styles, The Dress of the People: Everyday Fashion in Eighteenth-Century England (Yale, 2007). There are also fascinating studies that link different specialisms, such as, Nicola Phillips, Women in Business. 1700-1850 (Boydell & Brewer, 2006) for gender, culture and business history; or Paul Glennie and Nigel Thrift, Shaping the Day: A History of Timekeeping in England and Wales, 1300-1800 (Oxford University Press, 2009), for technology, culture and a critique of E.P. Thompson; or Vic Gatrell, The First Bohemians: Life and Art in London's Golden Age (Allen Lane, 2013) for a racy, feisty fusion of art and social history. Plus many more … 
Lastly, there is also something very new to report, which is opening up the field in ways whose full implications are yet to be discovered. Scholars of this period are in the forefront of digitising key resources and making them available online. Two websites set the standard: The Old Bailey Proceedings from 1674 to 1913 demonstrates the elastic length of the 'long 18th' century, while London Lives, 1690-1800 provides almost 3.5 million records, drawn from 23 different archival collections. There are problems in coping with such a super-abundance of data, but the difficulties are outweighed by the advantages of studying so many ordinary Georgians with the assistance of high-speed computer power. Other new websites reveal further under-studied groups, such as the Clergy of the Church of England Database or the voters who participated in Elections in Metropolitan London, 1700-1850.
With this exploding galaxy of research and resources, Georgian history is hot. And it's going to get even hotter – not for ever but for a good time yet.