Lee Kuan Yew becomes Singapore's Prime Minister
Richard Cavendish remembers how a former-British colony gained a long-serving leader.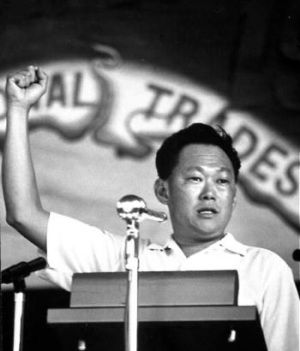 After the expulsion of the Japanese in 1945, British plans for a united Malaya left Singapore, the island at the foot of the Malay peninsula, out because its population was heavily Chinese, not Malayan. It became a separate British colony run by a governor with a mainly appointed, mainly Chinese council. Pressure for independence grew and in 1954 the socialist politician Lee Kuan Yew founded the People's Action Party (PAP).
Lee came from a rich Chinese family which called him Harry and brought him up speaking English, but he was bent on bringing an end to British rule.
In 1955 Singapore was given an elected legislature and its own administration in charge of all matters except foreign policy and defence. Lee's party won only three seats in that year's election. But in 1958 he helped to negotiate in London for a Singapore with a fully elected government responsible for all internal affairs. His party won 43 of the 51 seats in the subsequent 1959 election and, after securing the release of imprisoned communist colleagues, Lee took office as Singapore's prime minister in June.
The PAP had called for union with Malaya and in 1963 Lee crushed the communists, who opposed it, and Singapore joined the new Federation of Malaya. It did not work. The island's Chinese character proved an impossible obstacle and the federation asked Singapore to leave two years later. It became a separate, sovereign republic and in the elections from 1968 to 1980 the PAP won every single seat in the legislature. Lee became one of the most important political figures in south-east Asia and by the time he stood down in 1990 he was the world's longest-serving prime minister.