The Komagata Maru Incident
Larry Hannant describes a forgotten episode of conflict over immigration and race between two bastions of the British Empire, Canada and India, in the summer of 1914.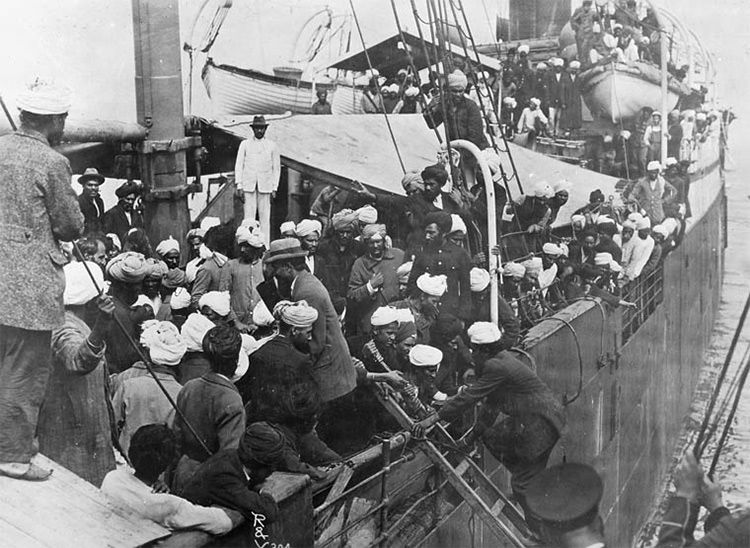 Half a brick is the only physical artefact that remains of a 1914 confrontation that forced a reluctant Britain into a conflict between two key members of its Empire. One was Canada, home to a majority of European immigrants who were determined to monitor their entry points and to enforce a policy of what they unabashedly called 'White Canada'. The other was India, whose citizens had been migrating for decades to parts of the Empire and to whom seeking a new home in Canada would become a test of their true equality inside Britain's imperial domain.
Labelled 'this half brick was used as a missile by Hindoos', the fragment went to a police evidence locker, where it lay forgotten for a century. It was thrown by a combatant in a midnight mêlée between Indians and the Canadian militia. The 'Hindoo' who threw it – and who was more likely to have been a Sikh – was a passenger on the Komagata Maru, one of 376 would-be immigrants who, on May 23rd, 1914, entered Canada's main Pacific harbour to assert their right to move to all parts of the British Empire. The Indians had anticipated the legal reception they could expect as they waited in Burrard Inlet outside the bustling city of Vancouver. They did not expect to be forced to endure segregation, starvation and attacks by zealots as their ship lay at anchor for two months.