Stephen Cooper admires an article from 1967 that sought to separate historical fact from fiction in Shakespeare's portrayal of England's much mythologised warrior king.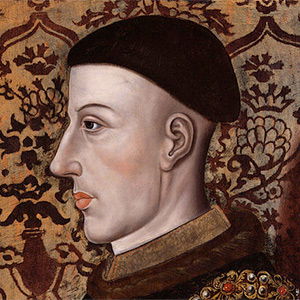 Harold F. Hutchinson's article took a new look at Henry V and sought to explain how Shakespeare had taken liberties with the facts in presenting the king to an Elizabethan audience.
Hutchison wrote that 'Shakespeare's fictions are still more potent than the professional historian's facts'. Hutchison's secondary sources (C.L. Kingsford, Wylie and Waugh, R.B. Mowat and Ernest Jacob) had portrayed Henry as a warrior hero, which coincided with the image that most English people had of him in the 1960s, based on Laurence Olivier's performance in the film of Shakespeare's Henry V. That film had been made in 1944 during the Second World War, at Winston Churchill's request. Although it was only shown after the end of the war, it had enormous patriotic appeal and was a commercial and critical success. It was still being shown 15 years later and, when Robert Hardy played the role in BBC television's An Age of Kings (1960), he followed closely in Olivier's footsteps.