Joseph Haydn arrives in England
The 'father of the symphony' came to London on January 1st, 1791.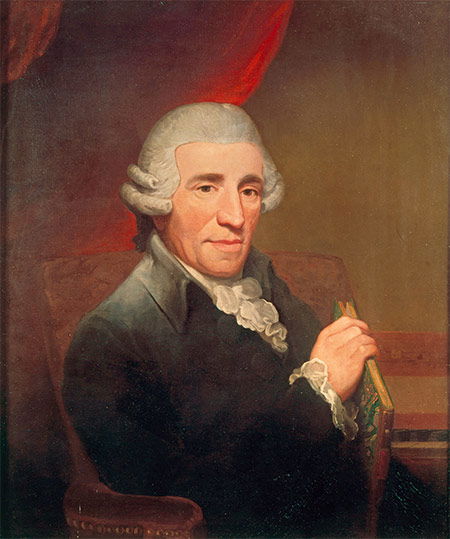 Since the early 1760s the great Austrian composer had been master of music to the Esterhazy family, the leading Hungarian aristocrats in the Austro-Hungarian Empire. At their palace in Hungary he composed music for them and organised and conducted their orchestra and choir. In 1790, however, a new Prince Esterhazy, with no interest in music, cut spending severely, including Haydn's salary. At this point the unhappy composer was approached by a concert promoter called Johann Peter Salomon, who suggested they go to England where he could organise mutually profitable concerts. When his friend Mozart pointed out that Haydn did not speak a word of English, he is said to have replied: 'My language is understood throughout the world!' 
By way of Munich and Bonn the two men reached Calais on New Year's Eve and next day took ship for Dover and went on to London. Haydn, now 58, was both excited and alarmed by the vast size of the city, the numbers of people, the crush of traffic and the deafening noise, but his music was hugely admired in England and a week or so later he told a friend that his arrival had caused a sensation. It had been in all the newspapers for three days and he had dined out for six days already. He promptly started taking English lessons, as aristocrats and leading musical and literary figures swarmed to meet him. He was invited to a ball at court and taken up by the Prince of Wales (the future Prince Regent), who became his main royal patron.  
Salomon organised Haydn's first concert early in March and it reportedly attracted 'homage and even adulation'. Charles Burney, the music historian, said that the mere sight of the great man presiding from the piano electrified the audience and excited 'an attention and a pleasure' superior to any ever before given to instrumental music in England.  
Besides handsome profits and all the adulation, Haydn was giving piano lessons to a wealthy and attractive widow called Rebecca Schroeter and a passionate affair developed. He went back to the Continent in 1792, but presided over another series of concerts in England in 1794 and 1795. George III offered him accommodation at Windsor Castle if he would stay in England permanently, but the composer declined. 
Haydn wrote 12 symphonies and numerous other compositions in England. He eventually died in Vienna in 1809, utterly worn out at the age of 77. In a bizarre sequel, his head was secretly cut off and stolen for a phrenological examination which concluded that his 'bump of music' was 'fully developed'.