John Buchan dies in Montreal
The novelist and peer died on February 11th, 1940.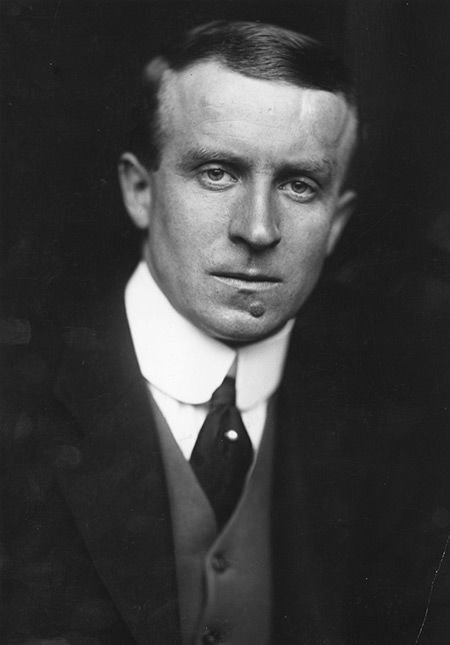 He was known for his prodigious output of classy adventure stories, historical novels and biographies, which he wrote while working at high-powered jobs that carried him to the peerage as Lord Tweedsmuir before his appointment as Governor-General of Canada in 1935.  
Buchan's term of office was five years and by 1939 he had decided that he would not accept another term. His health had been worrying him and one Tuesday morning in January 1940 in his residence in Ottawa, Rideau Hall, he slipped and fell in the bath, hit his head and knocked himself out. He was still unconscious when he was found an hour later and was taken for immediate surgery. He had suffered a stroke and the doctors did not think he would last long, but he was moved to the Neurological Institute in Montreal for more operations before he died soon after seven o'clock on the Sunday evening. He was 64.  
The Canadian prime minister, W. Mackenzie King, went on the radio to tell his people that they had lost 'a friend who from the day of his arrival in this country dedicated his life to their service'. Returned to Ottawa, the body lay in state in the Parliament Building before a state funeral in St Andrews's Presbyterian Church. It was cremated and the ashes were returned to the UK on a warship to be interred in the churchyard at Elsfield, a village outside Oxford. Elsfield Manor had been Buchan and his wife Susan's country house in England for many years.  
Andrew Lownie's 1995 biography called Buchan 'the Presbyterian cavalier'. Born in Perth in 1875, son of a Presbyterian minister, he went to Glasgow University at 17 and on to Oxford, where he was President of the Union and won the Newdigate Prize for poetry. Between 1901 and 1903 he was private secretary to Lord Milner, the High Commissioner for Southern Africa. Back in England he became a director of Nelson's, his publishers. His books included The 39 Steps in 1915, the first of his Richard Hannay series. From 1918 he ran the Ministry of Information in London and he was later on the board of Reuter's news agency. From 1927 to 1935 he was MP for the Combined Scottish Universities and from 1933 High Commisioner of the Church of Scotland. His biographies of Montrose and Sir Walter Scott came out in 1928 and 1932. Charming, gifted and impressive, he moved easily in the most influential circles and a friend said that he seemed to achieve success 'by a kind of royal right' that no one challenged or begrudged.