Jefferson Davis and the Collapse of the Confederacy
Arnold Whitridge on the former Senator from Mississippi, who led the Government of the South during the Civil War in the United States.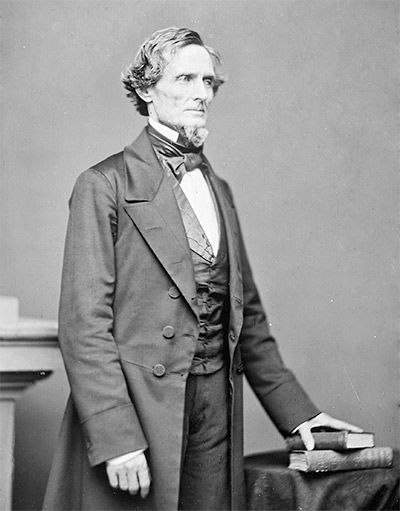 The southern confederacy, now enshrined in the hearts of all Americans as the "lost cause," lived only four years. It was born on February 4th, 1861, when delegates of six States of the lower South, soon to be joined by Texas, met together in Montgomery, the mosquito-ridden but otherwise pleasant little capital of Alabama, to form a new nation.
It died on April 9th, 1865, when Lee surrendered to Grant the tattered, half-starved army of Northern Virginia at the Appomattox Court House. The last flag of the Confederacy was furled when the cruiser Shenandoah put in to Liverpool on November 6th; but by that time the Confederacy had already passed into the realm of romance.
William Howard Russell, The Times correspondent who assisted at the birth in Montgomery, reported that the delegates, in all but the garments they wore, "were like the men who first conceived the great rebellion which led to the independence of this wonderful country—so earnest, so grave, so sober, and so vindictive." The Southerners themselves were fond of drawing parallels between 1776 and 1861; but the parallels were not very exact.
The rebels of '76 had gambled on the redcoats, together with the Hessian mercenaries, not putting up too stiff a fight (which proved to be correct); but the secessionists, misled by the peace talk of Northern democrats, assumed that the Yankees would not fight to a finish either (which proved to be wrong).