Japanese Women at Work, 1880-1920
What was it like to be a 'boiled octopus' in the silk mills of Japan before the First World War? Janet Hunter looks at the life and conditions of the women who bore the brunt of Japan's rapid industrialisation.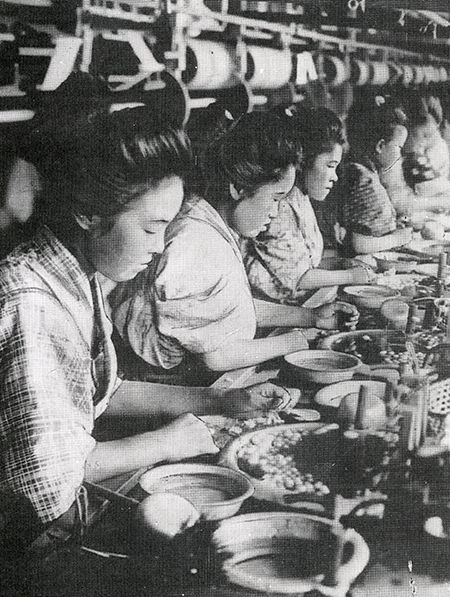 Girls preparing cocoons in hot water for spinning silk.
It is easy to view the growth of Japan's economy over the last century as an unmitigated success story. Notwithstanding the debacle of 1945, Japan's current position as an economic superpower bears witness to the country's status as the only non-Western nation to acquire both a modern industrial sector and an empire before the Second World War. However, these undoubted achievements too often conceal the problems which Japan, like other late-developing countries, faced, and the burden which rapid industrialisation placed on her people. Among those who paid a high price for national growth were industrial workers.
As Western style factories and the mechanisation of production spread in the late nineteenth century, tens of thousands of individuals, mostly from rural backgrounds, took up factory work. By the late 1920s over 2 million Japanese workers were employed in large, mechanised factories, providing the core of a new, permanent working class.