Hollywood's First Major Film Company Created
Tinseltown pioneers founded the Jesse Lasky Feature Play Company on December 22nd, 1913.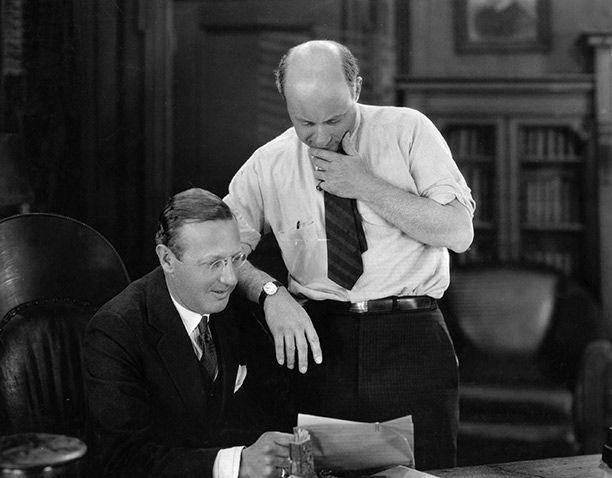 Short films and parts of films were made on the edges of what was then the fairly small Californian city of Los Angeles from the late 1890s and the first film studio was set up behind a Chinese laundry, perhaps in 1907. Many other fly-by-night outfits followed, but the first major studio was headed by Jesse L. Lasky.
Born in San Francisco in 1880, Lasky began his career as a not very successful cornet player and years afterwards he would call his autobiography I Blow My Own Horn. He and his sister Blanche started managing other entertainers and got involved in the theatre business in New York. In 1910 Blanche married an enterprising glove salesman called Samuel Goldfish, who urged Lasky to go into the motion picture industry. Lasky, Goldfish and Cecil B. DeMille, all in their early thirties, formed the Jesse Lasky Feature Play Company in 1913, with Lasky as president, Goldfish as general manager and DeMille as director-general. They knew nothing much about movies, but they learned as they went along. Their studio was an old barn on Vine Street in Hollywood.
The company produced DeMille's film The Squaw Man, the first feature film made entirely in Hollywood, a feature film being one long enough to be the only or main item in a cinema programme. It was a hit when released in March 1914 and the Lasky company's output boomed. In 1915 they released 36 feature films. Their biggest earner was Carmen, starring the beautiful Metropolitan Opera soprano Geraldine Farrar.
In 1916 the Lasky outfit merged with the Famous Players Film Company, founded by Adolph Zukor, as the Famous Players-Lasky Corporation, with Zukor as president and Lasky as vice-president in charge of production. Most of their films were distributed by the recently formed Paramount Pictures. Zukor and Goldfish could not get on and Goldfish was forced out. He soon changed his name to Samuel Goldwyn and became a movie mogul of huge celebrity. Famous Players-Lasky took control of Paramount, which was a major force in the movie business in the 1920s. DeMille's contract was not renewed after his spectacular 1923 film The Ten Commandments ran wildly over budget.
The Great Depression hit Paramount hard and Lasky was driven out in 1932. After teaming up briefly with Mary Pickford, he spent the rest of his career as an independent producer for companies which included Fox, Warner Brothers and Metro-Goldwyn Mayer. In his autobiography he claimed to have brought a thousand pictures to the screen and launched the careers of many film stars. He died in Beverly Hills in 1958 aged 77 and was buried in the Hollywood Forever Cemetery, next to Paramount Pictures.