The Assassination of Walther Rathenau
The redemption sought by the assassin of Weimar Germany's foreign minister.
Important Correction: This piece used a 1943 article by George W. Herald as a source, which claimed that Ernst Techow had saved the lives of hundreds of Jews in Marseilles. This claim has since been recognised as unfounded. This article has not been amended to reflect this, in line with our policy to maintain our archive as published.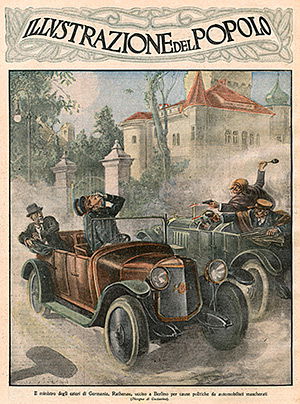 Atonement, redeeming one's past sins, plays a prominent part in Judaism, with Yom Kippur, the Day of Atonement, as the holiest date in the Jewish calendar. No life offers a more dramatic illustration of atonement in action than that of Walther Rathenau, foreign minister of Germany's Weimar Republic – assassinated on June 24th, 1922 – and Ernst Werner Techow, his assassin.
Rathenau was one of the most formidable figures in early 20th century Germany. A Jewish industrialist, thinker and diplomat, he built the enormous AEG electronics and engineering conglomerate into a powerhouse of the German economy. During the First World War, when Britain's naval blockade was starving Germany of vital raw material imports, Rathenau became his nation's economic overlord.
Playing a role similar to Albert Speer in the Second World War, Rathenau husbanded Germany's dwindling resources and directed its industrial production, brilliantly improvising to give a lease of life to its failing war effort. His work, according to some historians, prolonged German resistance by months or even years. It also sowed the seeds of hatred in the minds of Germany's anti-semitic nationalists, who saw in Rathenau, not a great patriot brilliantly managing scarcity, but a rich Jew cornering markets.
After the war the infant Weimar Republic sought out the talented Rathenau, making him foreign minister. When his mother asked him why he had taken the job, foreseeing that it would make him the target of more frenzied hatred, he replied: 'I had to Mama, they had no-one else.' Rathenau duly stoked the Right's rage in 1922 by negotiating the Treaty of Rapallo with the nascent Soviet Union, while insisting that Germany had to fulfill the provisions of the deeply unpopular Treaty of Versailles.
Again, the fanatical Right misunderstood Rathenau's motives. It made sound diplomatic sense for Europe's two pariah states – defeated Germany and Bolshevik Russia – to make friends on pragmatic, rather than ideological grounds. Under Rapallo's secret clauses the Soviets allowed Germany to covertly build up its armed forces inside Russia, negating Versailles, which restricted Germany's army to just 100,000 men. Ignoring this, the Right only saw a Jew making dubious deals with his fellow Jews, the Bolsheviks. They tramped the streets yelling hymns of hate:
Knallt ab den Walther Rathenau!
Der Gott-verfluchte Juden-sau!
[Knock down Walther Rathenau/ The God-forsaken Jewish sow!]
Some prepared to do just that.
The Weimar Republic had narrowly survived its chaotic birth thanks to the defeated army's officer corps and fierce young students, who had joined the Freikorps, Rightist militias that had put down revolts by Spartacist revolutionaries with savage glee. Their bloody task accomplished, the Freikorps faced dissolution by the government. They then staged their own revolt against their ungrateful masters, the Kapp Putsch, in March 1920. Following its failure, the most militant Freikorps, led by Hermann Ehrhardt, a former naval commander, morphed into an underground terrorist group, Organisation Consul, or O.C.
The O.C's self-appointed task was the elimination of the 'November Criminals', who they blamed for Germany's collapse in 1918, and for the Weimar democracy they detested. In a murderous campaign, which began in 1921, they accounted for more than 350 deaths. Their first victim, shot down while holidaying in the Black Forest, was Matthias Erzberger, who had negotiated the 1918 Armistice. Their last was Walther Rathenau.
The trio who murdered Rathenau as he drove to his office from his home in Berlin's exclusive Grunewald district, were typical O.C. killers. The gunmen were two former officers, Erwin Kern and Hermann Fischer, while the driver of their car, Ernst Werner Techow, was, at 20, too young to have fought in the war. Ambushing Rathenau's chauffeur-driven limousine, the killers sprayed the minister with bullets and lobbed a grenade into his car for good measure. His spine and jaw shattered, Rathenau died in minutes. While even his killers were aware that Rathenau was a man of exceptional qualities, they also believed he was one of the Elders of Zion, the mythical cabal of Jews who, according to the notorious Protocols forgery, were secretly conspiring to rule the world.
Discarding their distinctive leather coats and abandoning their car, the killers split up as a tidal wave of revulsion against their deed swept the nation. In the massive manhunt that followed, Kern and Fischer died in a police siege of the medieval Saaleck castle where they had hidden. Techow was turned in by an uncle to whom he had fled for refuge. Tried with lesser members of the plot, he was sentenced to 15 years in jail.
While in prison, Techow had a change of heart. He received a letter, which he carried for the rest of his life. It was written by Rathenau's mother Mathilde to his own mother. In it, the bereaved woman forgave her son's killer: 'Had he known my son, the noblest man earth bore, he had rather turned the weapon on himself.' Freed in 1927, after serving only four years, Techow was appalled that his former 'ideals' were now represented by the rising Nazis. Boldly, he slapped Josef Goebbels, then Hitler's Gauleiter for Berlin, in the face, telling him: 'It wasn't for swine like you that we killed Rathenau.'
Techow then fled Germany and joined that traditional refuge for those fleeing their past, the French Foreign Legion. Adopting the alias 'Ernest Tessier' he served in Morocco, Syria and Indo-China. On the outbreak of the Second World War he was adjutant at Fort Flatters on the Tunisia/Libya border. It was here in February 1940 that his past caught up with him. Many Jews had joined the Legion after escaping Hitler's Germany and Techow/Tessier made a point of befriending them, getting one to coach him in Hebrew, a language he had already taught himself. Another Jewish recruit was the nephew of Rathenau, the man Techow had helped kill.
When Techow discovered young Rathenau's identity, he confessed his crime, telling him that he had read and admired his uncle's books while in prison, coming to the conclusion that the antisemitism prompting his crime had been the result of 'evil forces' in his soul, which he had struggled to expunge. He concluded: 'I only wish I would get the opportunity to right the wrong I've done.' Techow got that opportunity a year later, in February 1941, after leaving the Legion and settling in Marseilles, then a magnet for Jews escaping Nazi-occupied Europe.
Techow made it his mission to help these desperate people, procuring exit visas for them to escape to Casablanca and neutral Spain. According to George Herald, a Legion comrade who had witnessed Techow's confession to Rathenau and who met him again in Marseilles, Techow, in an act worthy of his compatriot Oskar Schindler, helped more than 700 Jews to escape deportation and death as deliberate atonement for the crime he had committed two decades before. He died in 1975.