A History of British Broadcasting
With the BBC Charter renewal in the news, Taylor Downing recommends studies of the institution's past, present and future.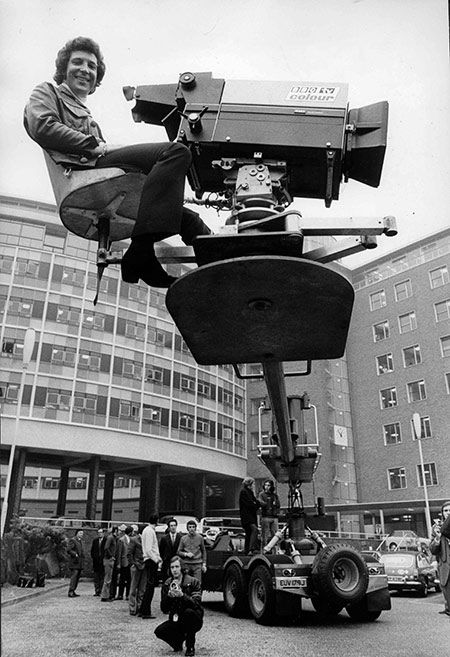 Singer Tom Jones rides a crane at BBC Television Centre, 1971.
'From scarcity to abundance' is the phrase usually used to describe the explosion in the number of channels and broadcasting bandwidth over the last 60 years, from one television channel in Britain in 1950 to about 400 channels today. However the same could apply to the explosion in writing about broadcasting history.
In 1957 the BBC decided it needed its history to be written. Partly this was because it wanted to remind itself (and others) of the values that underpinned the institution when, for the first time, its monopoly was broken and it was facing competition from ITV, which by the late 1950s was resoundingly defeating the BBC in the ratings game. Second, it had just been through a bruising encounter with government during the Suez Crisis. The director-general initially approached Alan Bullock but he was too busy. He recommended the young Asa Briggs, an Oxford historian who had been at Bletchley Park during the war and knew that institutions needed to keep their secrets. A wonderful deal was put in place whereby Briggs was paid by the BBC, received access to documents that no outsider had ever seen, had an office in the BBC, but would be totally independent and with the publisher, Oxford University Press, would retain editorial control. Two volumes were initially intended.
What followed were five authoritative tomes: The Birth of Broadcasting (1961), The Golden Age of Wireless (1965), The War of Words (1970), Sound and Vision (1979) and Competition (1995). Briggs produced a history of an institution and of the bureaucrats who shaped the corporation. His volumes follow how ideas and policies emerged and were defined by events. This ranges across such issues as what radio and later television technologies to adopt, to what swear words were and were not suitable; from what was appropriate content for Children's Hour, to how to support the wartime V for Victory campaign. The weakness of Briggs' histories is that they are about people and policies rather than programmes. The vast bulk of the BBC's output, its actual radio and television programmes, has not survived. So Briggs' history is inevitably based on paper records. It is not a cultural history. In this sense it is very much of its time, for cultural history hardly existed when Briggs started writing and the 'communications revolution' had yet to happen.
Since Briggs' last volume was published, many histories have presented the BBC in terms of its cultural contribution to the life of the nation, such as David Hendy's brilliant, all-embracing history of Radio 4, Life on Air (2007) and Joe Moran's Armchair Nation (2013). Recently, Charlotte Higgins of the Guardian has produced an excellent work that roots the contemporary struggles of the BBC firmly in the story of its early days, in This New Noise: The Extraordinary Birth and Troubled Life of the BBC (2015). Many others have written on different aspects of broadcasting history. There is a six-volume history of ITV (1982-2002) by Bernard Sendall, Jeremy Potter, Paul Bonner and others. But this is more corporate and less compelling than Briggs. There are also lots of memoirs. Some are excellent like David Attenborough's Life on Air (2002) and Jeremy Isaacs' Look Me in the Eye (2006), which locate their own personal story in the context of a dramatically changing broadcasting landscape. Palgrave Macmillan publish for the BFI a series of TV Classics. This reviewer has written one, on The World at War (2012), and there are volumes on Civilisation (2009), Dr Who (2005) and The Singing Detective (2007) among many others. There is a growing mass of academic titles for the expanding media studies market, from analyses of TV news, to studies of television drama.
So, after a gap of 20 years, it is exciting to read the follow-on to the Briggs mega history. The series has a new author, Jean Seaton, and a new publisher, Profile Books. The book was delayed for more than a year as lawyers pored over it, concerned about its treatment of Jimmy Savile among other issues. But it was finally published this year as Pinkoes and Traitors: The BBC and the Nation 1974-1987. Seaton comes from a fine media history pedigree at the University of Westminster (which in its earlier existence, as the Polytechnic of Central London, encouraged much pioneering work on media studies). She is also a known and outspoken supporter of public service broadcasting.
Seaton has a totally different style to Briggs. He wrote as he would about a Victorian city, as a largely chronological, conventional history. Seaton's approach is thematic and cultural, including topics such as the political coverage of Northern Ireland, David Attenborough's Life on Earth, the Charles and Diana Royal Wedding, the role of women in the BBC and the corporation's link with the security services, when 40 per cent of all staff were vetted by MI5.
Seaton's book has already become controversial and has been attacked for a host of factual errors that let it down. Melvyn Bragg has called it 'distressingly inadequate'. The son of Alasdair Milne (the first programme maker to become top dog at the BBC) has denounced the account of the sacking of his father as DG. Much of Pinkoes and Traitors is highly opinionated and, most frustratingly, almost dateless. The final chapter on Milne's demise never once reveals in what month and barely even what year, events were happening.
Nevertheless, there is much fine writing in the book that sums up the enormous range of the BBC's output as the cultural cornerstone of the nation 'as it got up and when it went to bed, when it celebrated Christmas and on an ordinary weekday evening'. The book is timely and, as the debate about Charter renewal takes off, it leads one to ask what it is Britons want from the BBC. Seaton is loud and clear on this. The nation wants a broadcaster that is national while remaining independent from government; that caters for all tastes including the most popular while continuing to offer quality programming of the highest international standard; and an institution that enables creative talent to flourish. In Seaton's history the BBC has a good champion. Let us hope that those who have the future of the BBC in their hands take note of its past.
Taylor Downing writes on film and television and is author of several books, including Secret Warriors (Little, Brown, 2014), about scientists in the First World War.