Henry Chichele made Archbishop of Canterbury
Henry V's right-hand man was made Archbishop on April 27th, 1414.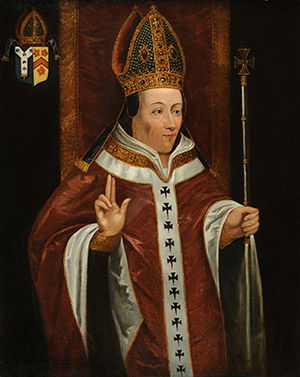 The statement on his magnificent Canterbury Cathedral tomb that Henry Chichele was born a pauper seems wide of the mark. He was born in or about 1362 at Higham Ferrers in Northamptonshire, where his father became mayor. His two elder brothers were successful businessmen in London and one of them was twice lord mayor.
Henry Chichele would outdo them. He was educated at Winchester and New College, Oxford, where he studied law. By the 1390s he was ordained and making a powerful impression in the country's most important ecclesiastical court, the Court of Arches in London. Henry IV's government began sending him abroad on ecclesiastical and diplomatic missions and in 1410 he was appointed to the royal council. In 1411 he was enthroned as Bishop of St David's.
Chichele became an ally and right-hand man of the Prince of Wales, who became king as Henry V in 1413 and the following year appointed him to Canterbury when the see fell vacant, which the pope confirmed in April. He believed in a close alliance of Church and state and frequently accompanied the king to France. He is said to have been present at the battle of Agincourt in 1415 and he negotiated the king's marriage to a French princess, Catherine of Valois. He crowned her queen of England in 1421 and christened her son, the future Henry VI.
Chichele took vigorous action against the Lollard heretics and on a rather lighter note is said to have insisted that barbers must not work on Sundays. After Henry V's death in 1422 Chichele remained on the royal council, but he now had less influence. Perhaps his greatest single achievement in the long term was his foundation in 1438 of All Souls College at Oxford to train top-quality brains for the benefit of both Church and state. He died in 1443, aged about 81. The Chichele professorships in international law and modern history established at Oxford in Victorian times show how his memory was long respected.