Heads and Tales: A Royal Affair
An 18th-century ménage à trois involving the King of Denmark inspired the recent film, A Royal Affair.  Stella Tillyard considers what makes it a story for our times.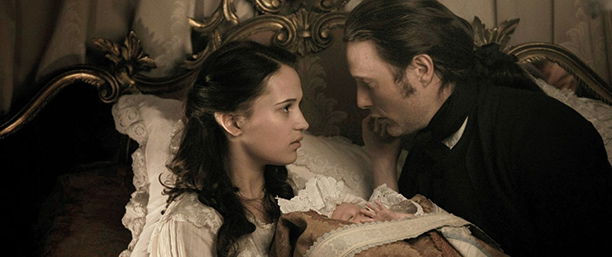 It looks innocuous on one side, a Danish krone, dating from roughly 1771. Turn it over though and you see a crown and, below it, a vagina clearly engraved. The coin is a piece of satire or slander: our queen, Caroline Mathilde, it says, is a whore. In Copenhagen, where the original  coin was passed from hand to hand, everyone knew that the queen's lover was a commoner and a foreigner, the German doctor, Johann Struensee. Everyone also knew that the king, Christian VII (r.1766-1808), was disabled by a malady of the mind and unfit to govern the country. Caroline Mathilde, or rather her lover, has usurped the place of the king, says the coin in its crude way.
The first time I turned the coin over in my hand its bluntness and visceral misogyny surprised me, even though I had written a book in which I told Caroline Mathilde's astonishing story. In England in the early years of George III's reign it was similarly often hinted that his mother, Princess Augusta, was not only ruling the country but also having an affair with Lord Bute, the king's friend, former tutor and prime minister. The petticoat and the boot were the images chosen to represent the princess dowager's influence and proclivities; direct enough, but not in themselves pornographic. Of course there was plenty of pornography and slander in Britain, but the libellous fake krone clearly comes from a much angrier environment and it reminds us that the years between 1769 and 1772 in Danish history form one of those historical episodes that defies simple explanation.