God, Gold, Corruption and Poverty
Dominic Janes describes how the early Church reconciled its teaching of holy poverty with the accumulation and display of spectacular wealth.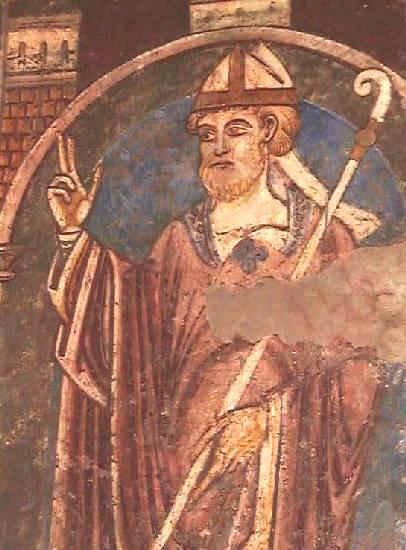 In March 687, on a barren islet off the Northumbrian coast, a lone man was dying, his feet ulcerated and his body badly wasted by malnutrition. It was bitterly cold and for five days the seas had been so rough that no one had been able to get to the islet. When they finally reached him, the man had not been able to rise for five days and his only food had been a few onions. His death shortly afterwards can hardly have been unexpected. Bede, the greatest historian of Anglo-Saxon England, commemorated that man, Cuthbert, as a saint. His self-sacrifice and lack of concern for his own material needs were such as to place him as a worthy disciple of Jesus. Cuthbert's bodily remains, however, were to be the focus of intense attention and adorned in the richest way possible. He was re-interred several times, the most recent exhumation revealing a remarkably well-preserved Anglo-Saxon silver altar and golden pectoral cross, together with a variety of later medieval silks.
Early and medieval Christianity lavished splendour in the context of death, something which can be difficult fully to understand today. Many people no longer appreciate grand celebrations of death, but assume that funerals should be austere occasions. Such differences in attitudes are partly a result of cultural aesthetics. For example, George Bernard Shaw, an inveterate trouble maker, wrote against the tastes of his times when he talked of `earth burial, a hideous practice, [which] will some day be prohibited by law'. It was only in 1884, after much opposition from clergy who thought it might interfere with resurrection, that cremation was legalised in Britain. Since then, a rising horror of the corpse has ensured the spread of crematoria.