The First Execution by Electric Chair
William Kemmler was killed on August 6th, 1890.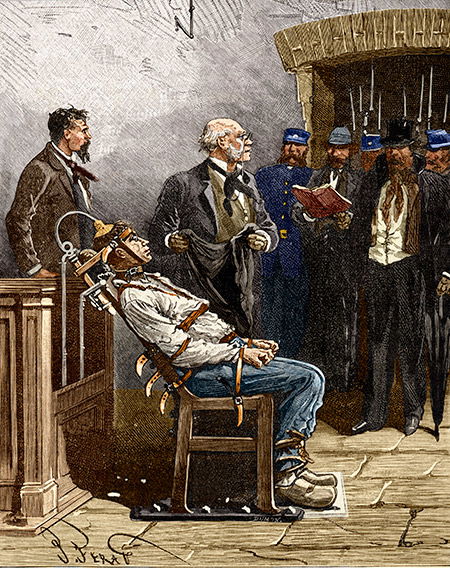 The electric chair was invented by employees at Thomas Alva Edison's works at West Orange, New Jersey in the late 1880s. The inventor's involvement has embarrassed many of his biographers and an entry for 'electric chair' in their indexes is a rarity. Edison wanted to see capital punishment abolished altogether in the US, but meantime he thought electrocution would be quicker and less painful than hanging. A commission organised by the governor of New York State agreed with him and it was the Edison chair that was used in 1890 to end the life of a street pedlar called William Kemmler, a German-American who had killed the woman he lived with in a drunken rage.
The death sentence was carried out at Auburn Prison in New York State. Awakened at five o'clock in the morning in his cell, Kemmler dressed neatly in a suit, white shirt and tie. He ate breakfast and said prayers before his head was shaved. At 6.38am he entered the execution chamber and said calmly to the assembled witnesses: 'Gentlemen, I wish you all good luck. I believe I am going to a good place and I am ready to go.' He was fastened into the chair, which had been successfully tried out on a horse the previous day, and said to the executioner, Edwin Davis (whose official title was 'state electrician'), 'Take it easy and do it properly, I'm in no hurry.'
The generator was charged with 1,000 volts and the current was passed through Kemmler's body for 17 seconds. He was unconscious, but still breathing. The current was turned on again at 2,000 volts. Kemmler's skin began bleeding, part of his body was seen to be singed and a horrible smell spread through the death chamber. The New York Times reported that 'the stench was unbearable'. The procedure had taken about eight minutes.