The Evacuation of Tristan da Cunha
The 264 inhabitants of the island of Tristan da Cunha were evacuated to Cape Town on October 10th, 1961.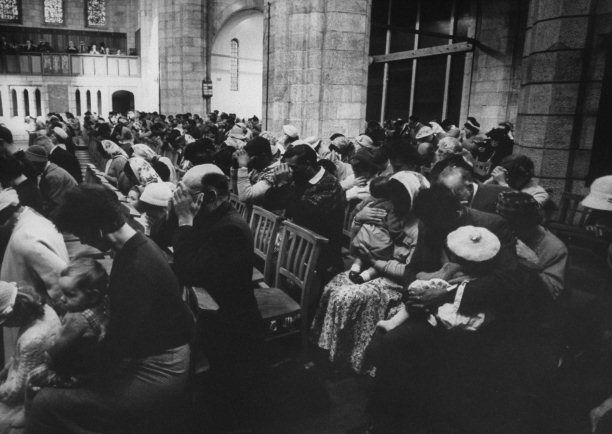 In 1506 a Portuguese sea-captain called Tristao da Cunha came across a group of six little islands far out in the Atlantic between South Africa and South America. The largest of them, which he named after himself, has a volcano in the middle. The British annexed the islands in 1816 and a population slowly formed from members of a temporary British garrison, shipwrecked sailors and other Europeans, as well as women from other islands. By 1886 there were 97 inhabitants, clustered at the settlement of Edinburgh on Tristan da Cunha.
From August 1961 there were signs that the Tristan volcano was restless. There were earth tremors and in the following months a large fissure opened in the ground behind the island's lighthouse and a mound formed that gave off a powerful smell of sulphur and grew steadily larger. The island's 264 people moved to the uninhabited Nightingale Island for an uncomfortable night before a Dutch liner, the Tjisadane, that happened to arrive the next day, took them away to Cape Town. HMS Leonard arrived from the Cape on October 13th to find that red-hot lava and smoke were pouring out of the mound, which was 250ft (80m) high. The crew collected as many of the islanders' belongings as they could before sailing back to South Africa, but all the farm animals and domestic pets had to be left behind.
The islanders were soon taken on to England in a mail ship, the Stirling Castle. After a brief spell in wooden huts in Surrey, they were housed at a former RAF camp at Calshot, near Southampton, where they suffered unhappily through an unusually cold English winter. A Royal Society expedition in 1962 found that, although the Tristan crawfish cannery was no more and the islanders' dogs had taken a heavy toll on the sheep, conditions seemed not impossible. An advance party returned to Tristan in April 1963 and in November some 200 people, including four Tristan girls who had meantime married Englishmen, returned to their island.