Pawn of elder statesmen or, as Matthew Christmas argues, another Henry VIII in the making?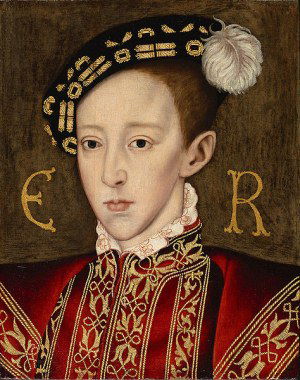 Edward VI, by William Scrots, c. 1550
Historians, teachers and students do not tend to give much time to Edward VI. The legendary late Professor Elton gave his short reign 12 sides in his 492 page book, England Under the Tudors, and few mainstream textbooks do much more. Can one blame them? After all, Edward was a sickly child, – clever, oh yes, but he never ruled. He was probably irrelevant and at best a puppet of the more interesting Dukes of Somerset and Northumberland. Elton indeed goes even further in the damning of the boy into obscurity: 'self righteous, inclined to cruelty and easily swayed by cunning men, he exercised such little influence as he possessed in favour of disastrous policies and disastrous politicians.' In fact, he claims that 'he reduced the king-worship of the early sixteenth century to absurdity... the crown was never quite the same after Henry VIII died.' Latimer was right then, when he preached before the minor in 1549 using the words of the Book of Ecclesiastes: 'Woe to thee, O' land, where the king is a child'. Historians should pass on to consider the effectiveness of the 'real rulers' and whether 1547-1553 was part of a time of crisis.