Death of Sir Thomas Bodley
The bibliophile and founder of the Bodleian Library died on January 29th, 1613.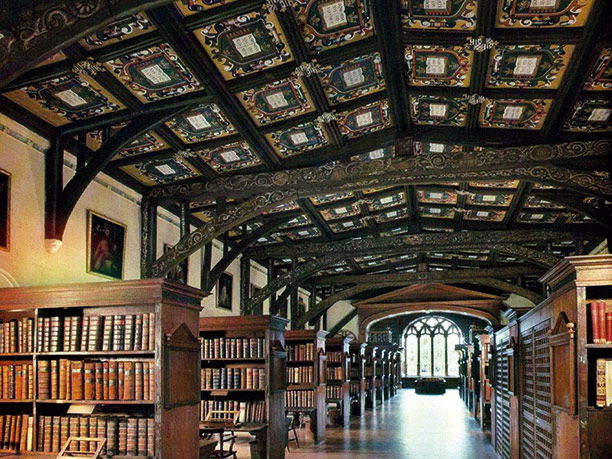 The story of one of the world's greatest libraries starts in the 14th century, when Oxford University was given a small collection of books by the Bishop of Worcester. More items were accumulated over time and in the 1400s Humphrey, Duke of Gloucester (Henry V's youngest brother), a zealous and learned collector, added many books and manuscripts. In the next century, however, the library struck hard times, the building fell into disrepair and much of the collection vanished.
It was Thomas Bodley who came to the rescue. After a career as an Oxford academic, Member of Parliament and diplomat in the service of Elizabeth I he retired in 1597. He came from a well-to-do family, had a rich wife and he had decided to say farewell to state employment and, as he put it in his autobiography, 'set up his staff at the library door in Oxford'. His offer to the vice-chancellor to restore the library was accepted and he set to work to rebuild it, buy books and persuade friends and connections to give books or money. Every benefactor's name was inscribed in large letters in an impressive donations register, which was kept prominently on show in the library and helped to draw in more contributors.
Early acquisitions included works in Hebrew, Turkish, Arabic, Persian and Chinese. The collection was formally reopened in 1602, with some 2,000 volumes, as the Bodleian Library. Bodley was knighted in 1604 by James I, who visited the library the following year. In a stroke of genius in 1610 Bodley persuaded the Stationers' Company in London, which under royal charter registered all books published in England, to send the library a free copy of every book so registered. Over the centuries this would bring in the most gigantic quantity of material.
The Bodleian had to be constantly rebuilt and enlarged and is now England's second largest library, after the British Library in London. Many of its millions of items have had to be stored in places outside Oxford, including a disused salt mine in Cheshire, and a new facility opened in Swindon in 2010 with more than 150 miles of shelving and cabinets for more than a million maps. The Bodleian's treasures include a Gutenberg Bible, a Shakespeare First Folio, the only surviving poem in John Donne's handwriting, Jane Austen manuscripts and Mary Shelley's draft of Frankenstein with her husband's comments scribbled on it.
Bodley was 67 when he died. To the dismay of some of his relatives he left the bulk of his money to the university. He was buried in Oxford, in the chapel of Merton College, where his monument can still be seen.