The explorer of West Africa died in Cape Town on June 3rd, 1900.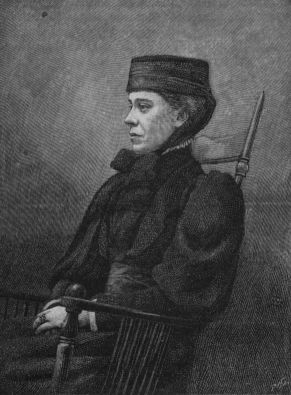 Character, courage and the absence of her family made Mary Kingsley a pioneer explorer of West Africa. Her doctor father, George Kingsley, a younger brother of the much better known novelist and muscular Christian Charles Kingsley, was himself a dedicated traveller. Her mother, his cockney cook, was an invalid. Mary  was never sent to school and grew up looking after her mother and was almost entirely self-educated. Her parents' deaths and her useless only brother's departure for the Far East in the 1890s left her free in her thirties to defy all convention and undertake journeys in which she penetrated parts of Africa that no white had ever reached. Primly dressed in Victorian spinster costume –  a high-necked black blouse, a long black woollen skirt, buttoned leather boots and a small sealskin hat –  she travelled with an escort of admiring native bearers through jungles and pestiferous swamps, was borne along rivers by canoe and encountered crocodiles, leopards and gorillas. Hobnobbing with astonished chiefs and witch doctors, she financed herself by trade, bartering rum, gin and fish-hooks for ivory and rubber, while collecting beetles and fishes as specimens for the British Museum. She returned with a deep respect for black Africans, to write books and travel round Britain lecturing. A firm believer in the British imperial mission, she had grave misgivings about the attitudes of many colonial administrators and all too many missionaries.
Mary Kingsley was only thirty-seven when she died. Horrified by the Boer War, which she regarded as imperialism run mad, in 1900 she volunteered for service as a nurse in South Africa and arrived in Cape Town on a troopship at the end of March. She was sent to take care of sick Boer prisoners-of-war in the Palace Barracks in Simonstown, which had been hastily converted into a makeshift hospital. When she arrived, a doctor named Gerard Carré and two nurses were desperately trying to cope with more than 200 patients, who lay in narrow iron beds under coarse sackcloth sheets and mud-coloured blankets. Many of them had been badly wounded in the fighting and men delirious with fever wandered around crazily in their nightshirts. The walls were streaked with dirt, the paint was peeling and the place swarmed with bugs and lice. More doctors and nurses arrived, but typhoid was raging through the wards and Mary wrote to her friend St Loe Strachey: "I never struck such a rocky bit of the Valley of the Shadow of Death in all my days as the Palace Hospital, Simonstown."
"Whether I shall come up out of this," she wrote to another friend, "I don't know… All this work here, the stench, the washing, the enemas, the bedpans, the blood, is my world." It was a world which finished her as typhoid took her in its grip in May, and on the evening of June 2nd, knowing she was dying, she begged Dr Carré to make sure she was buried at sea. She also asked to be left to die entirely alone in her room, as an animal would die alone. Reluctantly, the doctor and the other nurses left her and she died early the following morning, a Sunday.
Arrangements for burial with full honours at sea degenerated into farce. An escort of soldiers and a military band set out from the hospital on the Monday afternoon with the wooden coffin, draped with the Union Jack, on a gun carriage. Arriving at the pier at Simonstown, the coffin was transferred with all due solemnity and decorum to the torpedo boat HMS Thrush and taken three miles out to sea. There the funeral service was recited and the coffin was slid gently over the ship's rail and into the water. Unfortunately, the coffin had not been properly weighted and it declined to sink. To everyone's horror and embarrassment, it bobbed up and down on the waves until the ship's lifeboat was lowered and a crew of seamen managed to attach a spare anchor to the teak box. At last, mercifully, it sank, leaving only a circle of fading ripples on the surface of the sea.