Puritan souls may hide a cavalier approach to clothes, according to Patrick Little as he explores fashion at the court of Oliver Cromwell.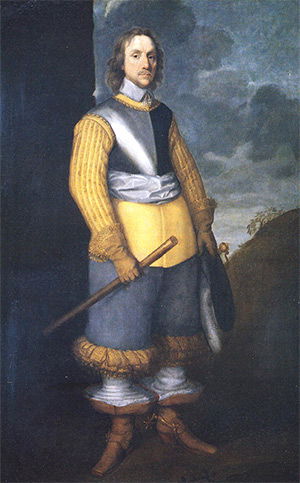 Oliver Cromwell by Robert Walker, tentatively dated to 1650, in the surprisingly 'gay attire' of 'petticoat breaches', lacy boot-hose and a plumed hat.
Sellar and Yeatman's 1930 comic history of England, 1066 and All That, neatly sums up the popular picture of a Puritan. In the public eye, the very clothes of a Roundhead are deemed to show him to be serious, religious and opposed to all the pleasurable aspects of life. He was 'right but Repulsive'. Such men not only fought a civil war against their flamboyant king, they executed him; they not only created a religious republic, they banned Christmas and horse-racing and set up the regime of those notorious killjoys, the Major Generals. Their leader was the archetypal Roundhead, the quintessential Puritan, Oliver Cromwell.