The consecration of Westminster Abbey
The church was consecrated on December 28th, 1065.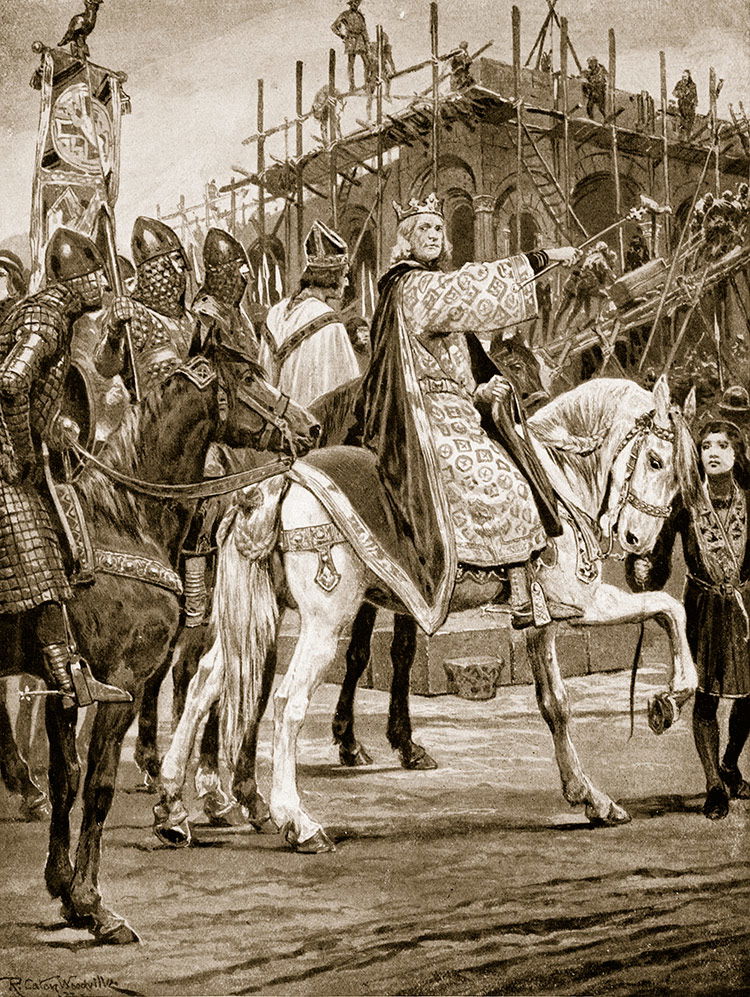 The Collegiate Church of St Peter at Westminster, now known as Westminster Abbey, is officially neither an abbey nor a cathedral. Elizabeth I made it a Royal Peculiar in 1560, which means that the dean and chapter answer directly to the sovereign. It is certainly royal and also peculiar in the sense of remarkable. English and later British kings and queens have been crowned there for centuries. Some of them have been married there and many buried in it, too, and the building is packed with the tombs and monuments of famous people.
The story of the great church starts in a mixture of legend and history some 1,400 years ago. It stands on what was once Thorney Island, so named because it was full of tangled thickets of brambles and, as a consequence, 'thorny'. The island was just off the north bank of the Thames, where two little branches of the River Tyburn flowed into marshy country some two miles to the west of the old Roman city of London. It was claimed that King Sebert of the East Saxons, then the ruler of London and a former pagan, built a church on the island after being converted to Christianity by a mission led by a man called Mellitus, who was Bishop of London from AD 604. 
The Thames was well stocked with fish in those days and tradition also had it that St Peter appeared to a young fisherman and demanded that a church dedicated to him be constructed on Thorney Island – and it was. Another story had St Peter appearing to Mellitus on the day when Sebert's church was consecrated and conducting the ceremony himself. In later centuries Thames fishermen regularly gave gifts of salmon to the abbey on St Peter's Day, June 29th, and the Fishmongers' Company still presents a salmon to Westminster Abbey every year.
How much truth there is in all this is uncertain, but a later East Saxon king may have given land to the Thorney Island church in the eighth century. In the 960s King Edgar of England and St Dunstan, Bishop of London and subsequently Archbishop of Canterbury, installed or reinstalled a small community of Benedictine monks in Westminster, almost certainly on Thorney Island.   
There was a Benedictine community on the island when Edward the Confessor became King of England in 1042. A son of Ethelred the Unready and Emma of Normandy, born about 1005, Edward spent most of his early life in Normandy after 1013, when England was taken over by the Danes under Sweyn Forkbeard and then Cnut. Invited back by the last Danish king, who was his half-brother, he succeeded peacefully to the English throne in 1042.
While in exile in Normandy, Edward had sworn a solemn oath that, if he ever became King of England, he would go on pilgrimage to St Peter's in Rome to give thanks, but when the time came his advisers told him that it was not politically advisable. Pope Leo IX released him from his vow on condition that he built or restored a monastery dedicated to St Peter. Edward was a deeply pious man and he accepted the obligation with exemplary thoroughness. He chose the Benedictine monastery on Thorney Island and to make sure things were done properly he installed himself in a palace close to the abbey, between the river bank and what is now the street called Whitehall. The monks and lay brothers had diligently cleared Thorney Island of its thorns and made it a more habitable place. Edward now appointed a new abbot, brought in more monks and decided to build a far grander abbey church in the Norman style of the day. It was there that he intended to be buried.
The work on the church took many years and Edward had it formally consecrated in December 1065, though he was too ill to be present at the ceremony himself. He died only a week later on January 5th, 1066 and was buried in the church in front of the high altar on the following day. After the Battle of Hastings, William the Conqueror had himself crowned and anointed King of England in Westminster Abbey on Christmas Day in 1066, probably to emphasise his claim to be Edward the Confessor's legitimate successor. 
Edward the Confessor was canonised as a saint in 1161. In 1245 his fervent admirer, Henry III, began a massive programme of rebuilding and enlarging the Confessor's church. He spent a fortune on it and it was Henry who gave Westminster Abbey its lasting architectural character. In 1269 he helped to carry the Confessor's remains to a special chapel behind the high altar where they have remained through all the centuries since. When he died in 1272, Henry was buried in St Edward's chapel.