Burma's Road to the Future
Marilyn V. Longmuir asks if Aung San Suu Kyi's recent election victory completes the political journey begun by her father?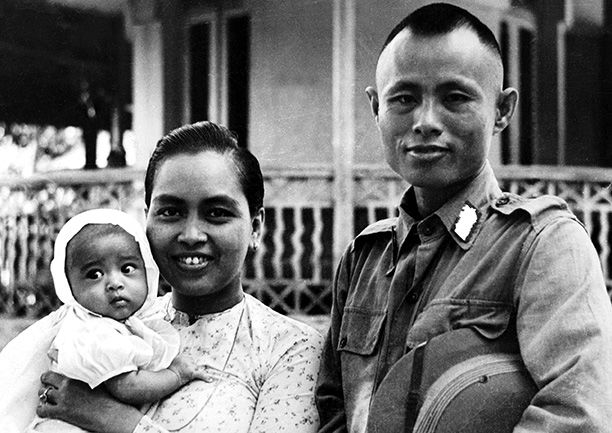 The visit of David Cameron to Burma in April 2012 has focused international attention on Britain's former colony. The visit was extraordinary because it was the first time that any British prime minister had visited Burma since Britain granted the country independence in 1948.
Cameron arrived bearing gifts. First was an offering of tangible assistance in handling ethnic conflict on its border regions. This help is to come from experts previously involved in the tortuous Northern Ireland peace process. Another offering related to training in government finance and law, as well as a parliamentary exchange programme.
Perhaps the most important gift was Britain's support, within the European Union (EU), for the relaxation of sanctions, except for the embargo on arms. On April 23rd the EU formally agreed to suspend sanctions against Burma for a year in recognition of the 'historic changes' taking place in the formerly isolated country.
During Cameron's visit meetings were held with President Thein Sein and the Nobel Prize winner Aung San Suu Kyi, leader of the National League for Democracy, which in April's election won 43 of 45 seats in the lower house of the Burmese parliament. Of all the people involved in the prime minister's visit she must be the one most pleased with these changes in Britain's policy. For the last 22 years she has endeavoured to lead her country towards a more fair-minded democracy and finally took her seat in parliament on May 2nd.
That a British leader has at last put out the hand of friendship to Burma  must bring back memories of her father, Aung San, and his visit to London in January 1947 to meet the Prime Minister Clement Attlee. Aung San was on a mission to lead Burma to independence and he returned home with Attlee's approval.
What followed soon after is among the saddest chapters in Burma's modern history. It was the morning of July 19th, 1947. Ensconced in the Council Chamber of the Secretariat, a two-storey building in downtown Rangoon (present day Yangon), a group of influential men, headed by the charismatic 32-year-old Aung San, was conducting a provisional cabinet meeting. In just over five months they expected to lead the newly created independent nation of Burma, which was due to come into existence at
4.20am on January 4th, 1948, an auspicious time and date chosen by a Burmese astrologer.
Aung San, the intended prime minister of the new country, was joined in the room by his provisional cabinet ministers: Thakin Mya, the deputy prime minister; U Ba Win, Aung San's older brother; Mahn Ba Khaing, a Karen tribal leader; Deedok U Ba Choe, an influential Fabian socialist; U Abdul Razak, a Muslim from Mandalay; and the Shan Sawbwa (princely ruler) of Mong Pawng, who was to be Councillor for the Frontier Areas. Also there was U Ohn Maung, a government secretary.
Suddenly the group was startled by an unexpected gunshot outside the room. As they turned towards the closed door three gunmen burst in. (Some reports say there were four.) Armed with military issue sub-machine guns, they mowed the group down. Within minutes the gunmen were gone and everyone present in the room was dead, apart from the Shan Sawbwa and U Ba Choe. Both were to die shortly afterwards.
U Saw, a prominent Burmese politician jealous of Aung San's success, was arrested and found guilty of instigating the assassination. He was hanged for the crime the following year.
An independent Burma had been Aung San's dream since his university days. He was an ethnic Burmese, educated in the country's central region and later at Rangoon University, where he became a prominent student leader and a confirmed nationalist. In 1941, just before Japan entered the Second World War, Aung San left Burma for China to seek assistance from Chinese Communists in carrying forward his dream of Burmese independence.
However fate intervened. In Amoy, present-day Xiamen, he was recruited for military training by Japanese agents and spent time in Japan and on the Japanese-held Hainan Island. In 1942 he returned to Burma with the invading Japanese army, as one of the Thirty Comrades, a group of young Burmese who were sympathetic to Japan's ambition to create a Greater East Asia Co-prosperity Sphere.
During the war years Aung San had a close relationship with the Japanese occupation forces, holding a number of military positions, and by 1945 he had risen to be commander of the Burma National Army (BNA). Although co-operating with the Japanese, he was also an important member of the clandestine Anti-Fascist People's Freedom League, which became a major political force in the years ahead. As the war progressed Aung San had gradually become disillusioned with the Japanese form of Burmese independence and so, along with a small group of trusted conspirators, he began to negotiate secretly with the returning British forces advancing from India southwards into Burma.
On March 27th, 1945, after a military parade in Rangoon, Aung San's BNA left the city ostensibly to support the retreating Japanese forces. Instead, his soldiers moved north to join the British 14th Army commanded by General Sir William Slim. The two men's first encounter is recorded in Slim's autobiography, Defeat into Victory. Aung San put forward his demands and Slim said, 'Go on, Aung San … You only come to us because you see we are winning!'
'It wouldn't be much good coming to you if you weren't, would it?', Aung San replied.
Slim was impressed by the young Burmese and felt that he 'could do business with Aung San'. In fact he saw him as 'a genuine patriot and a well-balanced realist'.
Besides Slim, Lord Louis Mountbatten, Supreme Commander of the South East Asia Command, was also supportive, believing it was better to have Aung San and his army of 10,000 on the British side than at large in Burma.
When the war ended Britain's new Labour government decided to grant independence to India, and Burma followed. A tough task lay ahead.
Of all the Southeast Asian countries, Burma had suffered the most extensive devastation during the war. Mandalay and Meiktila, large and prominent cities, were almost completely destroyed; Akyab, present-day Sittwee in the state of Rakhine on Burma's west coast, was badly damaged by bombing raids. Most of the major transport centres throughout Burma had come under constant Allied attacks. The war had ruined Burma's industries. The country's huge prewar export trade of oil and rice westward to India and further overseas had ceased. Furthermore there had been no imports. With the exception of handicrafts, only a few goods were manufactured locally and therefore the population suffered accordingly. Also, a severe monetary crisis of hyperinflation had occurred, due to the continuous printing by the Japanese of their occupation currency.
However it was Aung San's early death in 1947 that was Burma's greatest loss. The American historian Josef Silverstein has written: 'The loss of Aung San at this critical juncture was immeasurable; as a prewar and wartime resistance leader and as the symbol of the drive for political independence he held the confidence of the peoples of Burma and was acknowledged as the postwar architect of national unity and
independence.'
Decades of internal repression followed. However, should 2012 be seen as a new beginning for the country? Can the years of isolation from the rest of the world be over? Hillary Clinton, US Secretary of State, visited Burma in December 2011 and Japan has written off US$3.7 billion in loans and agreed to restart aid after 25 years. The Japanese prime minister, Yoshihiko Noda, has stated that he believes Burma's democratisation has reached a key stage.
Once known as the Golden Land, with its substantial natural resources of oil and natural gas, its gems and its bountiful land, Burma also holds a strategic position between the two great emerging superpowers of China and India and will have an important role to play in world affairs.