The British Newspaper Library: Tough decisions to be made on hard copy
David Kynaston seeks answers to questions about the fragile future of an institution beloved by historical researchers.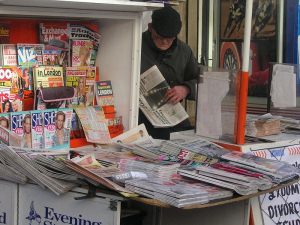 Historians have known for several years that the British Newspaper Library at Colindale in north London is entering the endgame. Established there in 1932 and serviced by staff who have become appreciably more helpful and friendly since I first went in the 1970s, it is now viewed by the British Library (BL) as no longer fit for purpose, above all in terms of storage and conservation. The BL, moreover, is in the process of implementing a two-site strategy: essentially, 'front office' for readers in St Pancras, London; and 'back office' for storage in Boston Spa, Yorkshire.
When is Colindale actually going to close? And what will be the state of access to newspapers after it does? Those were the principal questions in mind ahead of a recent meeting with Patrick Fleming, Associate Director Operations and Services at the BL, with a particular responsibility for the newspaper collection. He himself had a notable career in provincial newspapers before coming to the BL in 2007, is keenly aware of the value of news-papers as a historical source and in general revealed during our conversation a very constructive approach to the concerns of researchers.
The answer to the first question is relatively straightforward: not before July 2013. The proposed state-of-the-art repository at Boston Spa, to house Colindale's huge collection of hard-copy newspapers, has not yet started to be built; and given the current fiscal context it struck me (though Fleming did not say so) that the eventual closure date may turn out to be further away.
As for the second question he was keen to offer reassurance that post-Colindale there will continue to be access to hard copy as long as there are no surrogates readily available, which is the same as the position now. Those surrogates are two-fold: the existing stock of microfilms (mainly national titles, but not entirely), which will be transferred to St Pancras and be available to be read on microfilm readers there; and digital surrogates. The BL has already had some three million pages of 19th-century news-papers digitised on its behalf and the intention over the next ten years is to digitise as many as 40 million more pages, including from the 20th century. Because of digitisation the demand for hard copy is already declining and that trend will intensify.
Even so there will for the foreseeable post-Colindale future still be many pages – especially of local and foreign newspapers – that will only exist in hard-copy form. Here Fleming drew an important, understandable distinction between the roughly 30 per cent of the hard-copy collection that is in a damaged or vulnerable condition and the other 70 per cent that is still reasonably robust. Accordingly, the former will only be available to be consulted by pre-arrangement in Boston Spa itself (where there will be a small reading room), while the latter will be available on a pre-ordered basis for consultation at St Pancras. He did not say what maximum of volumes this meant in practice on any one day, but emphasised the BL's willingness to respond as flexibly as possible to the particular needs of individual researchers.
Inevitably it is only a half-glass prospect. No longer will one be able to go to Colindale and follow one's nose on the day – certainly not in terms of hard-copy local papers. Yet, as half-glasses go, I left the meeting feeling it was full rather than empty.