Bismarck and the German Right
Robert Gerwarth looks at the ways in which Otto von Bismarck was turned into a mythical hero-figure of the right and shows how the 'Bismarck myth' contributed to the widespread hunger in German society for a towering leader.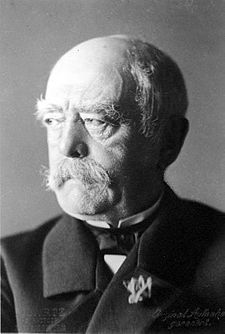 Otto von Bismarck in August 1890
In early July 1944, barely three weeks before the attempted assassination of Adolf Hitler by Claus von Stauffenberg, one of the leading members of the German resistance movement, Ulrich von Hassel, travelled through the war-torn Third Reich to visit the birthplace of Otto von Bismarck (1815-98) in the north German village of Friedrichsruh. Horrified by the destruction unleashed by Nazi Germany and convinced that Hitler would ultimately destroy Bismarck's proud Reich of 1871, von Hassel noted in his diary:
It was almost unbearable. I was close to tears most of the time at the thought of the work destroyed. ... During recent years I have studied Bismarck, and his Staline as a statesman grows constantly in my estimation. It is regrettable what a false picture of him we ourselves have given the world - that of the power-politician in soldier's boots - in our childish joy over the fact that at least someone had made Germany a name to reckon with again. In his own way he knew how to win confidence in the world; exactly the reverse of what is done today. In truth, the highest diplomacy and great moderation were his real gifts.