The Birth of Marie Antoinette
The future Queen of France was born on November 2nd, 1755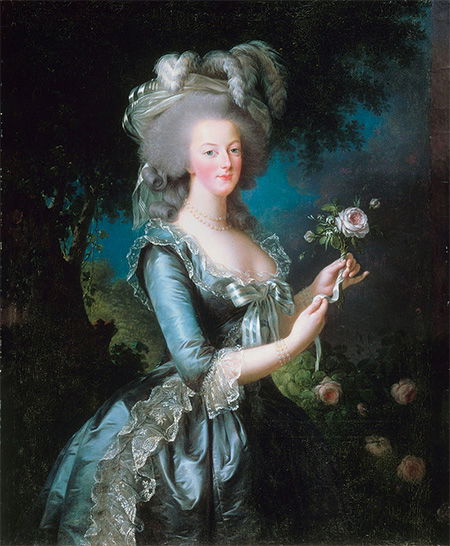 Born in an armchair in a room at the Hofburg Palace in Vienna at about 8.30 in the evening after an all-day labour, the future Queen of France was the 15th child and the 11th and last daughter of the Empress Maria Theresa and her husband, the Emperor Francis I. In homage to the Virgin Mary, all Habsburg princesses were christened Maria and the new arrival was baptized next day as Maria Antonia Josepha Joanna, and known in the family as Antoine.
She was swiftly handed over to a wet nurse and spent her first winter in the palace's nursery wing. Her mother, whose routine day began at 4am in summer and 6am in winter, was too absorbed in affairs of state to have much time for her. In the summertime the family left Vienna for Schönbrunn Palace in the countryside, set among gardens, woods and parkland where the children could run wild.
Antoine made her first official appearance at the celebration of her father's birthday in 1759, when she was three years old. She sang a song in French and some of her brothers and sisters played music. It was a musical family and in 1762 the young Mozart was invited to the Hofburg. There's a story that the six-year-old prodigy slipped on the polished floor and Antoine, who was the same age, ran to help him up and impulsively gave him a kiss. He said, 'You are kind, I would like to marry you', at which everyone laughed.
Antoine's education, such as it was, was overseen by the easy-going Countess of Brandeis, who cut down the hours devoted to reading and writing when she found that the little girl's interests did not run in that direction. She preferred playing, as she was to do all her life. Francis I died in 1765 when Antoine was nine. Her grieving mother plunged even more deeply into matters of state and the children saw still less of her than before. Antoine lost a favourite sister when Charlotte was unwillingly married off to the King of Naples in 1768. Charlotte asked after Antoine in letters home. 'When I think her fate may be like mine,' she wrote 'I would like to write her entire volumes on the subject... for I must say the agony suffered is all the greater in that one must always appear happy.'
All Maria Theresa's daughters were pawns on the diplomatic chessboard and Antoine's turn would soon come. Thirteen years old, blonde and blue-eyed with a delightful smile, she was considered 'a dainty morsel' by the French ambassador in Vienna and her mother was bent on marrying her to the Dauphin Louis of France, grandson of Louis XV. A French dentist straightened her teeth and a French hairdresser saw to her coiffure. Her education was badly in need of repair as well and the Empress asked the French King for a tutor. The Abbé de Vermond duly arrived and was charmed by his pupil. Though taken aback by her backwardness and ignorance, he formed a high opinion of her intelligence, but he said, 'I cannot accustom her to delve into things, though I feel she is capable of it.'
Charming and graceful, Antoine was fourteen in 1770 when her marriage to the 15-year-old Dauphin was celebrated in a stately ceremony in Vienna. She wore a dress of silver brocade with a long train and knelt next to her brother Ferdinand, who stood proxy for the Dauphin. Five days later, she left by coach for the long journey to  France where the King and her dull new impotent husband awaited her. Further in the future lay 'Let them eat cake' (if she ever said it), the Terror and the guillotine. She would be 37 when she was executed in 1793.