Anzac Cove, Gallipoli 1915
Roger Hudson describes the bloody stalemate that followed the landing of Allied troops on the Turkish coast.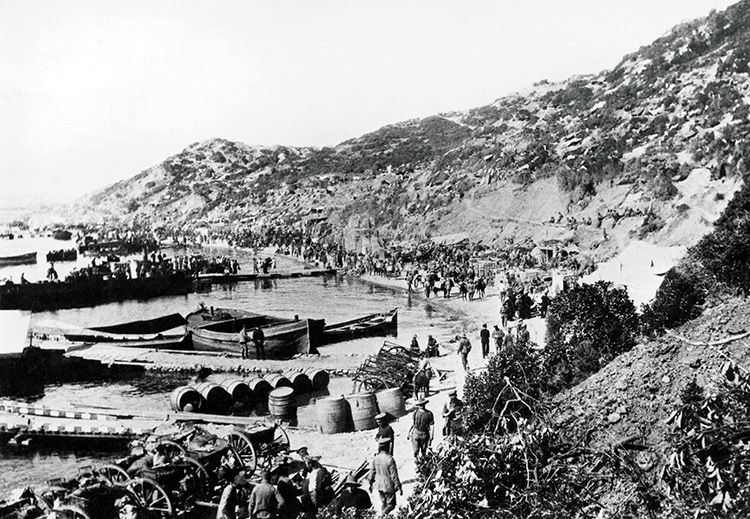 It would be hard to imagine a less suitable place to land troops than the strip of beach soon to be christened Anzac Cove. The Australians and New Zealanders were meant to have been put ashore further down the Gallipoli peninsula, but the strength of the current had been under-estimated, while those in charge of the pinnaces towing the boats got disoriented. The Turks were ready, under the command of Mustafa Kemal, one of the outstanding figures to emerge from the First World War. Anzac (Australian and New Zealand Army Corps) attempts to move inland and seize the higher ground were repulsed. General Birdwood, the Anzac commander, was only stopped from ordering an immediate re-embarkation by the prospect of it degenerating into a complete rout. By the following evening the hospital ships were full; after five days 136 officers and 3,313 men had been killed or wounded and the rest were confined to a beachhead perimeter only a few hundred yards inland and three or four miles long. The beach itself, a mile-and-a-half long, was hidden from the Turks but vulnerable to shrapnel, its flimsy piers were regularly broken up by high seas and it was 1,400 miles away from the nearest railhead at Marseilles. There was soon a network of trenches – sometimes only ten yards from the Turkish line – dugouts, dumps and mule tracks. Gallipoli was meant to break the stalemate of the Western Front, but only succeeded in replicating it, here and at Cape Helles a little to the south, where the British landings had taken place on the same day, April 25th.