Marseille is the 2013 European Capital of Culture – time to recall the heroics of Varian Fry, a US citizen who lived there during the Second World War. Markus Bauer reports.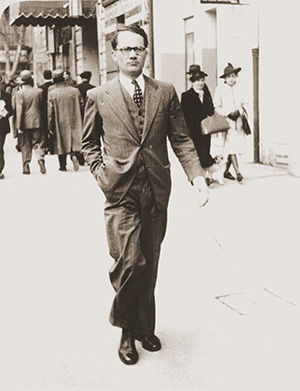 In June 1935 a young American strolled along the streets of Berlin. His name was Varian Fry. As a writer on foreign policy he wanted to explore the changes in Germany under Hitler. Fry experienced the social climate very directly: on the Kurfürstendamm he witnessed a mob of stormtroopers brutally assault a Jew. Infuriated, Fry published an article about the incident in the New York Times.
Five years later, on a hot August day, Fry walked down the stairs at St Charles railway station in Marseille. This time he came with a list of eminent refugees he aimed to save, in the name of the US Emergency Rescue Committee (ERC), from being caught by the Gestapo and the SS. Fry's efforts in the Mediterranean metropolis became one of the few humanitarian highlights within the city's sad story of war, exile and pogrom. Before the American left Marseille 13 months later up to 2,000 artists, writers, musicians and intellectuals were saved from certain death by his team. When Fry died at the age of 59 in 1967 only a few who knew him wrote about the 'unsung hero' of the ERC. Today his name is present wherever the story of humanity in times of despair is told.