Animal Farm: Sixty Years On
Robert Pearce gives a historian's-eye view of George Orwell's classic novel.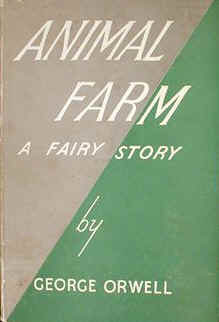 'A little squib which might amuse you': so George Orwell dismissed the book he was completing in February 1944. 'There's a farm, and the animals get fed up with the way the farmer runs it,' he wrote, summarizing the plot, 'so they chuck him out and try to run it for themselves. But they run it just as badly as the farmer and become tyrants like him.' Seldom can an author have so misrepresented the passionate intensity invested in his work, or have made a novel seem such a poor publishing proposition.
Several publishers duly rejected the work, but not because it was banal. The little squib was an attack on Britain's wartime ally, the Soviet Union, and thus likely to be political dynamite. The book appeared in August 1945, as Animal Farm. Frederic Warburg published it in the teeth of opposition from his sales manager, who couldn't bring himself to believe that Russia was not a socialist state, and from his wife, acutely aware of the immense suffering of the Russian people since the Nazi invasion in 1941. She threatened to leave Warburg ('Don't think I won't!') if he accepted it. Yet it was a decision he never regretted. A first edition of 4,500 copies sold out within a few days, and by 1973, when he wrote his memoirs, the book had sold around nine million copies.