'J'Accuse ...!': Cartoons of the Dreyfus Affair
Mark Bryant looks at the way caricaturists viewed the scandal engulfing France at the end of the 19th century.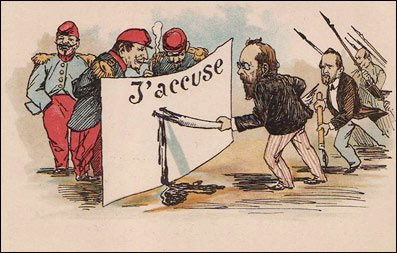 The trial of Captain Dreyfus of the French Army was a major cause célèbre at the end of the nineteenth century, pitting the Catholic church, royalists and the military against republicans, radicals and socialists. Not only did it generate a huge amount of column inches in the press, both in France and overseas, but it also led to hundreds of cartoons and caricatures of the leading figures in the case.
The worlds of art and literature, like the general public at large, were fiercely partisan in their views on the alleged German spy, and the debate involved such figures as Zola, Proust, Anatole France, Renoir, Cézanne and Monet. Former friends Degas and Pissarro fell out over the case, composer Edvard Grieg refused to tour France, and such was the public interest that posters, toys, ladies' fans, board games and even cigarette-paper packets featured drawings of Dreyfus and others connected with the affair. In addition the fact that Dreyfus was Jewish led to virulent cartoons that would not have looked out of place in the pages of the Nazi newspaper Der Stürmer fifty years later.