Hungary's Philosopher King: Matthias Corvinus 1458-90
Valery Rees surveys the life of the ruler who put 15th-century Hungary on the map, both culturally and geographically, but whose efforts may have put an intolerable strain on the body politic.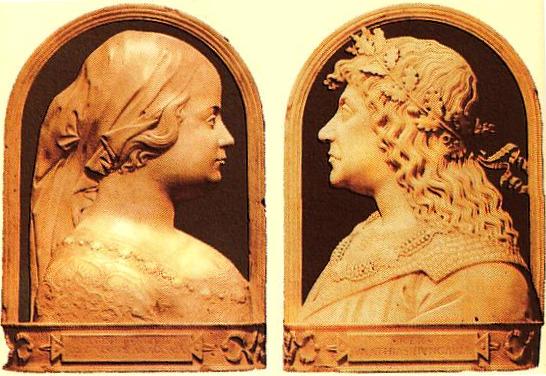 Let me invite you on a journey across Europe in the 1480s. Life in the rich cloth towns of Antwerp or Bruges is easy to picture. We can visualise the glories of Italy in Florence, Siena, Urbino, Rome. Recent restoration work in Rothenburg and Bamberg shows how life was lived in Germany. But what about further east? Let us journey on across the lands of the Holy Roman Empire, eastwards from Bamberg, through Austria, stopping at Linz and the great monastery of Melk, into Bohemia, Slovakia and finally into Hungary. As we follow the course of the Danube through the changing landscapes of hills and river plains, we notice the cultural unity. The cities still look German: the churches are built in the same style, the language of learning and religion is still Latin. The king and queen of this great country are in close personal correspondence with Italian states and are steeped in Italian culture. So we can abandon any idea that Europe in the fifteenth century ends at Vienna.
Hungary at this time is a large country, including not only the Danube basin and its great plains which supplied Europe with fine horses, and wheat and fruits in abundance, but also stretching from the Dalmatian coast in the west across the wealthy mining towns of Slovakia, from the vine-clad hills of upper Hungary over the Carpathian mountains of Transylvania to the Vlach (Wallachian) territories of Romania in the east, with a chain of border fortresses across the south, crossing Serbia and Croatia. We are at the edge of Christendom. Beyond Hungary are the Turks.
The Hungarian border fortresses were of immense importance to the whole of Europe as Turkish expansion began to change the face of the known world. In 1453 the fall of Constantinople had brought Greeks and Greek learning to Italy. The study of Greek texts that had been unknown in the West hitherto brought a rebirth of interest in the classical world and philosophy. This in turn served as inspiration for all that we call the Renaissance in Italy. There was, of course, no guarantee that Turkish expansion would stop at Constantinople and it is hard for us to appreciate now either the excitement caused by the rediscovery of Plato or the very real fear people felt towards an invader of such power, whose methods of warfare were so utterly destructive and whose culture was so alien. Not for nothing did Marsilio Ficino write to Pope Sixtus IV in 1478 of 'the ravening wolf threatening to devour the entire flock of Christendom'. In August 1480 the Turks sent a small naval detachment to Italy and burned Otranto. They put half the inhabitants to the sword and carried off the remainder into slavery.
It was the King of Hungary's troops, under Blaise Magyar, that recovered the fortress of Otranto for the Italians in September 1481. During the same year King Matthias also won a series of important victories against the Turks on home ground, driving them out of Serbia. Hungary was quite literally the bulwark of Europe. Ficino called Matthias a second Messiah, a second Moses, the man who would save Europe from the Turks.
From the correspondence of Ficino with the court at Buda we can learn much about Hungary's status in Europe. Ficino was the leader of the Placonic Academy in Florence, a man of considerable authority and influence. He translated the newly rediscovered works of Plato and Plotinus into Latin, and his teachings and commentaries on them reconciled Christian thought and Greek philosophy. His letters, collected and widely circulated in his own lifetime, provide us with a rich source of material in many fields.
Matthias was not the only ruler Ficino wrote to in his efforts to bring peace to a troubled world, but in Matthias Ficino and his circle held the greatest hope of fulfilling Plato's ideal of a philosopher-king: a king who would establish the reign of peace and justice, so that truth and the love of God might find full expression in the world. It was obviously no use looking to the papacy for such leadership: in 1464 Pius II had tried to unite Europe, including Hungary, in a crusade against the Turks, travelling to Ancona to lead it in person, but he died there before setting sail, aware of how little support had actually materialised. After him successive popes cared less and less about crusade. Besides, as personal ambition eclipsed piety, St Peter's heirs were fast losing their spiritual authority. Nor had the Holy Roman Emperor sufficient authority or political will to fulfil the role of protector. So it was entirely natural that Ficino and his circle should turn to Matthias, who seemed to unite in one person the spiritual, intellectual and temporal forces needed for the task.
To what extent were these grand hopes justified? Hungary had already gained some notable successes against the Turks in the previous generation: under King Ulászló (1440- 1444), János Hunyadi, Matthias' father, had risen rapidly to prominence as a gifted military commander. Then, as regent for the young László V, his popularity had risen even higher as he turned from successful defence to a daring offensive campaign against the Turks. Fighting continued throughout Hunyadi's life, culminating in the recapture of Belgrade in 1456. He died of fever shortly afterwards, but such was his prestige in the kingdom that his sons were considered candidates for the elective crown if the young King László should die without an heir. Hunyadi's elder son inherited the command of Belgrade, but within eight months baronial intrigue had secured his execution and the imprisonment of his younger brother Matthias in Prague. Then suddenly László died of plague, in 1457.
Several European royal houses had claims to the Hungarian throne. Matthias Hunyadi was a mere youth, the son of an 'upstart' (though some said that János Hunyadi had been the natural son of Sigismund, King of Hungary 1387-1457, and Holy Roman Emperor). The Diet met in Buda to elect a new king. The townsfolk favoured Hunyadi's son. The nobles were largely opposed. But a show of strength by Matthias' uncle, marching a powerful army of mercenaries up the frozen Danube towards them, carried the election. Matthias returned from Prague in January 1458 as king elect, engaged to the daughter of his recent captor. He inherited from his father vast landholdings in Transylvania, qualities of courage and leadership and a deep-rooted faith in humanism. He found himself at the head of a rich and powerful country, but one dominated by factions of extremely powerful nobles. Moreover, the Emperor Frederick III was in possession of the holy crown of Hungary without which no coronation could be valid. From 1458 until his coronation in 1464, Matthias had to make good his title against challenges from many quarters.
First he had to free himself from the influences of those who felt he owed his election to them. His mother, Elisabeth Szilagyi had paid his ransom, and, with her powerful brother Mihály, had entered an agreement with the Garai family to ensure Matthias' election in return for their continued influence. Matthias refused to feel bound by this, and proceeded to form working alliances with the lesser nobility within the Diet. Recognising his uncle's own ambitions, Matthias sent him off as soon as possible in command of an army against the Turks on an expedition in which he lost his life. The offended Garai barons transferred their support to the Habsburgs: five years of bitter troubles followed, resolved only by a compromise in 1463, whereby Frederick III allowed Matthias the crown in return for Habsburg rights of succession if he should die childless. Meanwhile Matthias valued his mother's support and she continued to guide him through the web of baronial politics, finally retiring to a convent not long after his second marriage in 1476.
In these early manoeuvres Matthias was also able to rely on the support of his Chancellor, János Vitéz, Bishop of Oradea. Vitéz had entered the chancellery under Sigismund and had remained at the centre of affairs through all the changes of regime since. He was by now immensely experienced in diplomacy and government. Indeed Vitéz had been Matthias' tutor through childhood, schooling him in Latin, history, mathematics and astronomy as well as the practical aspects of diplomacy. It was a thoroughly humanist education and Matthias was a willing and able pupil.
Matthias' favourite reading as a boy had been Quintus Curtius' Life of Alexander and Silus Italicus' epic of the Punic wars. He seems also to have developed a classical sense of his own destiny. In 1458 Pope Calixtus III had called him. 'the man sent by God'. Matthias was certainly conscious of his providential role as defender of Christendom against the Turks, but he looked to the classics for his inspiration. As Italy was the acknowledged home of the new interest in the classics, a steady flow of books and visitors came to Hungary from Italy.
Yet, for all that, Matthias was thoroughly Hungarian. His great talent was to put what he learned from the classics to practical effect in the everyday affairs of his kingdom. From his studies of the Greek philosophers, which he approached first through Vitéz and later through Ficino, he understood the essential unity of mankind under God and applied high standards of moral and ethical conduct to his everyday affairs. Devotion to his subjects' welfare earned for him an enduring presence in Hungarian folklore as Matthias the Just; stories of his wisdom, imagination and good deeds abound.
From his studies of the Roman historians, especially Caesar, he understood the need for a highly trained, disciplined army which could march in step and perform complex manoeuvres requiring skills of timing and co-operation between units. Most of these skills had been lost since classical times. As king, Matthias, with all the freshness and enthusiasm of youth, decided to reintroduce them to his own army. This could only be done with an army which stayed together long enough to practise. So among his earliest laws are a series of measures designed to improve the quality of the traditional threefold levy. After his conquest of Bohemia, he supplemented this with a standing army of Hussite and Polish mercenaries.
Keeping a standing army involved huge expense, so reforms of the tax system soon followed. By renaming the standard taxes, it was possible to remove many exemptions and immunities that had been granted. In addition, from the 1470s, the Diet granted an extraordinary tax for military purposes, renewed almost every year of Matthias' reign. These changes had two important side effects. The first was the centralising tendency we recognise as characteristic of the 'new' monarchies of the sixteenth century. The medieval tax system had operated on a local basis: both the funds for raising the militia and the command over it went to the count or castellan in each administrative area. The king had direct control of only a small proportion of the men at arms. Now, however, revenues were doubled; 20,000 men or more were maintained as mercenaries, and the king had increasing control over the remaining 100,000. Legislation enabling these changes had to be passed by the Estates, or parliament, which began to meet more regularly and to enjoy more power. Attracted by a share of this power, the lesser nobility were content to help the king reduce the might of the great barons by a series of modest but steady changes in the administration, not unlike Tudor reforms in England, designed to enforce the king's law and eliminate corruption.
The second side effect of the changes was a social one. During Matthias' reign, increasingly notable in the chancery lists are the names of young churchmen of peasant origin, who entered the church to receive an education and then rose on their own merits to positions previously reserved for the nobility. The majority of the nobility. both great and small, remained illiterate. This is not to say they were uncultured: there was a fine and rich oral culture based on Hungarian epics and religious ballads. But Matthias now took on the ambitious idea of making his nation a new home of classical learning. He was ready to promote any who showed talent in this direction.
The relative importance of the barons was also being eroded by the encouragement Matthias gave to towns and cities. Hungary was very much an agrarian society, but market towns and cities were growing: royal charters gave cities exemption from the jurisdiction of the landed aristocracy and their taxes were payable directly to the king. The king had an interest in fostering trade. When Matthias' war efforts began to turn away from the Turks and towards Vienna, it was partly in order to stem the outward flow of the profits of trade. Hungary's exports were channelled through foreign merchants in Vienna. Moreover the mines, the major industrial enterprise on Hungarian soil, were mostly in Italian or German ownership. Hungary's imports were mainly cloth and luxury goods, and although embroidery and metalwork were flourishing there, the idea of investing in manufacture seems not to have taken root. The cities were often German enclaves within a Hungarian rural hinterland. Some, including Buda, the capital, operated under. German law and custom, answering only to their own elected elders and to the king's personal representative, the magister tavernicarum. The cultural unity with Germany and Bohemia that we noted earlier was thus perhaps only skin deep, a feature of city life and not valid for the great Hungarian plains. It certainly seems that the economic and social transformation brought about by the growth of cities in Western Europe was not matched by developments in Hungary.
The Hungarian church, while wholly Catholic, enjoyed some independence from Rome, especially in the matter of ecclesiastical appointments. Consequently the church was the king's dependable ally in government. Even so, when Matthias' military tax-raising ventures began to require sizeable contributions from church property, he met fierce opposition, led by the two bishops who had hitherto been his most loyal sup- porters: János Vitez and his nephew, Janus Pannonius.
Matthias' situation was a difficult one: he realised that only Hungary was powerful enough to face the Turks. But he was acutely aware that even Hungary could not do this alone, despite increased revenues and the new, well-trained forces. Various attempts were made to raise co- operative ventures, in the hope that a combination of Italian and German wealth, Bohemian and Polish soldiers and Matthias' leadership might drive the Turks back into Asia. But negotiations bore little fruit. The Turkish threat remained as pressing as ever. Raids continued all along the border defence line and from 1468 Matthias turned his attentions increasingly to the lands north and west of Hungary. If Italy could not join forces with him, then he must rely on his own strength and build up a strong Danube empire.
Imagine then the plight of the churchmen, asked to give church property for a war not against the Turks but against other parts of Christendom including the Holy Roman Empire. The conflict with Vitéz and Pannonius now became inevitable and open. Armed uprising in 1471 led to the imprisonment of the one and the flight and death of the other, and to disillusionment on Matthias' part for a time with all things Italian and humanist.
However this did not last long, and by 1476 Italian emissaries were again very much in favour at court. Matthias had for some time been contemplating an Italian marriage. After the death of his first wife in 1464 he had opened negotiations with the Sforza family, but in 1465 Ippolita Sforza was married to the Duke of Calabria, eldest son of the King of Naples. The kingdom of Naples offered a glorious example of Renaissance court life, and soon Matthias had resolved to marry the king's beautiful and accomplished second daughter, Princess Beatrix of Aragon. After some delay, caused by constant wars, the marriage was solemnised in 1476, and Beatrix arrived in Hungary to be crowned queen.
With Beatrix came Francesco Bandini. He had entered King Ferdinand's service after spending some years with Marsilio Ficino in Florence. In Hungary he rapidly became Matthias' friend and closest adviser. It was Bandini who advised the king in matters of taste and style. Another Italian, Antonio Bonfini, was commissioned in the 1480s to re-write the chronicles of Hungary in a fitting, humanist style. During the late 1470s and the 1480s classical learning began to blossom :in Hungary. The new queen took on enthusiastically the task of redecorating the palace at Buda and engaging the finest musicians in Europe. The ever increasing flow of visitors from Italy included not only Beatrix's personal guests, luxury goods, merchants and adventurers, but also Renaissance scholars, writers, artists, stone-masons and architects, all looking to Matthias for patronage and work.
The style of architecture he adopted was all'antica, a revival of the aesthetic principles of ancient Greece and Rome. The governing idea, elaborated from the works of Filarete, was that a prince may lawfully engage in works of public magnificentia for the greater glory of his nation or of God, without incurring penalty for the sin of pride or lavish excess. Such a programme was enthusiastically undertaken by the king in person. The royal palace at Buda underwent extensive modifications at the hands of Italian craftsmen. That of Visegrad was renowned for its beauty and tranquility. Most remarkable of all was the conception and successful realisation of the great Corvina library, the largest library of its kind. It was filled with every known text of Latin and Greek, many of them beautifully copied out and illuminated at the great Italian manuscript houses. This was not only for the king's personal delight; he wished to encourage both nobility and church to take an active interest in intellectual pursuits and to make use of this wonderful collection. He also wished to establish Buda as a centre of European learning. The university he founded at Pozsony (Bratislava) had rather faded away after the death of Vitéz, but during the 1480s he tried to persuade Ficino to come in person and set up a Platonic Academy in Buda. A modest start was made under Bandini in the Dominican Cloisters next to the Coronation Church, with plans for an impressive expansion, but Ficino never came and Matthias died before the plan was fulfilled.
In 1485 Matthias had conquered much of Austria, and had made Vienna his capital, though keeping always great affection for Buda, the centre of his Hungarian realm. It was at Vienna that he died, on April 6th, 1490, probably of a stroke, though he had been in poor health for some months before. In many ways, Matthias behaved as a model Renaissance prince. Plato's philosopher king was the ideal held out to him by Ficino, and clearly it was a vision that appealed to him. Why then was there so little of his glory left in Hungary only a generation after his death?
There were two main reasons. First was the lack of a legitimate heir. Neither Matthias' first wife, Catherine Podiebrad, nor Beatrix gave him a child. He did have a natural son, János Corvinus, in between his two marriages and, when it began to be clear that Beatrix would produce no heir, Matthias determined to make János his successor, educating him appropriately to continue the work of a Renaissance prince. The unfortunate price of this was increasing conflict with Beatrix. Yet Matthias never gave up hope that reason would prevail and he was still engaged in securing a princely marriage alliance for János when he died. However with Beatrix against him, and no shortage of foreign contenders, János was unable to command sufficient support in the assembly of nobles after his father's death.
The second factor was the very nature of the reforms Matthias had implemented to bring the government of the realm under his own control. Resentment ran deep among the old baronial families. They now quickly seized upon the opportunity of rectifying matters by deliberately electing a weak king. Even the new nobles, those same faithful servants whom Matthias had used to control the old barons, and had rewarded with grants of land and power, deserted the Hunyadi claim. The very bishops Matthias had raised up from humble origins became the princely prelates of the Jagiellonian period. Besides, having made large grants of land, Matthias passed on a far smaller personal power base to his successor than he had inherited from his own father.
So it was that János Corvinus was voted King of Bosnia, and sent off to rule this troublesome border territory, while the crown of Hungary was given to Ladislas Jagiello of Poland. He soon earned the nickname Dobje, because he simply agreed to whatever was put before him. Matthias' mercenary army was sent off to face a relatively minor Turkish raid. Its pay was withheld, as the magnates had negotiated a promise from Ladislas that he would no longer exact the military tax. The army, understandably, fell to pillaging local villages for food and supplies, so Pál Kinizsi, Matthias' ablest commander, was sent against it to destroy it. Then, in 1514, when a large army of peasants started to assemble in response to fresh calls for a crusade against the Turks, they too were massacred by the ruling nobles, with devastating long-term social consequences.
Leaving no army capable of resisting Turkish advance, Hungary's nobles had sealed their own doom. The southern border fortresses were in a state of neglect. Belgrade fell in 1521, leaving the way open for the Turks to advance up the Danube. On August 2nd, 1526, they met a hastily assembled Hungarian force at Mohács and a pitched battle was fought. In spite of astonishing acts of bravery from individual sections of the Hungarian army, they were utterly annihilated, with the loss of king, bishops, many nobles and thousands of men.
What followed is well known. Hungary was divided into three parts. One fell to the Habsburg family, as yet again the slain king left no heir. One was ruled directly by the Turks under conditions inimical to the development of Hungarian culture. The third, Transylvania, continued a semi-independent life under Turkish suzerainty.
It is to Transylvania that we must look for the continued growth of Renaissance culture in Hungary after 1526. Little work has been done on this, but travel and research in the eastern part of old Hungary is now a possibility. What has already occurred since the fall of Communism in Eastern Europe is the opening up of archives and sites of archaeological interest in Western Hungary. They reveal a period of European history when the very idea of Europe was larger than we have usually considered. Furthermore, in the figures of Matthias and Beatrix, in the writings of their court advisers and all that has survived, we can look afresh at ideas of statecraft and kingship in early modern Europe.
Further reading:
P. Sugar A History of Hungary (London & New York, 1990)
The Letters of Marsilio Ficino, are in English translation (Shepheard-Walwyn, 1975-1988 and further volumes in preparation)
articles by E. Fugedi are reprinted in Kings, Bishops, Nobles & Burghers in Medieval Hungary, (Variorum Reprints, 1986)
Bela Kiraly (ed), War and Society in Medieval and Early Modern Hungary (New York, 1982)
C. Csapodi and K Csapodi-Gardonyi, Bibliotheca Corviniana, (Budapest 1969, reprinted in 1981)
R Feuer-Toth, Art and Humanities in Hungary in the Age of Matthias Corvinus, (Budapest, 1990)
If you enjoyed this article, you might like these: