More Than Just Kidd's Play
Tom Wareham examines the role played by a legendary yet ill-fated pirate in the consolidation of England's early trading empire.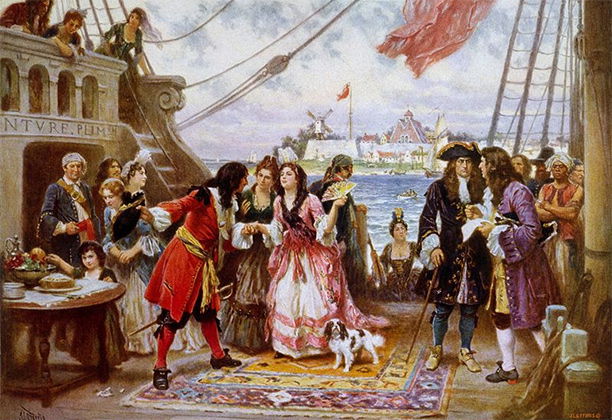 When Captain William Kidd was executed for murder and piracy on May 23rd, 1701, he died defiantly proclaiming his innocence. He repeated his claim that he had been the innocent dupe of 'others who knew better, and made me the tool of their ambition and avarice'. The question of Captain Kidd's guilt or innocence has been a matter of historical debate ever since and the number of books published on the pirate are testimony to the popularity of the subject. However, in seeking to untangle the enigma of Kidd's activities, historians have probably underestimated the stage on which the hapless pirate's story unfolded.

It is generally agreed that William Kidd had been a privateer, authorised by government to fight on its behalf, long before he arrived in London from New York in 1695. It is also agreed that he was supplied with a powerful warship – the Adventure galley – and commissions to go and hunt down pirates in the Indian Ocean. Although Kidd put up some of his own money for this project, much of the funding came from a syndicate of private individuals tempted by the chance of rich returns and who preferred to keep their names off any contractual documents. Four of the supposed funders were in fact powerful members of the Whig Government: Edward Russell, Lord Orford, the first Lord of the Admiralty; Lord John Somers, Keeper of the Great Seal and privy council member (and lord chancellor in 1697); Henry Sidney, Earl of Romney and master general of the ordnance; and Charles Talbot, Earl of Shrewsbury, the secretary of state. According to Kidd, the man responsible for finding these backers was yet another politician, Richard Coote, Earl of Bellomont.
This article is available to History Today online subscribers only. If you are a subscriber, please log in.
Please choose one of these options to access this article:
Call our Subscriptions department on +44 (0)20 3219 7813 for more information.
If you are logged in but still cannot access the article, please contact us
If you enjoyed this article, you might like these: