How to Build a Better World
A pioneer of global governance, Lionel Curtis is all but forgotten today. His ideas, says Tom Cargill, are in urgent need of reassessment.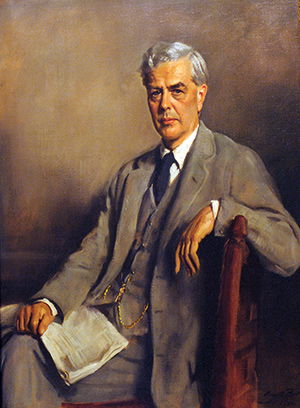 Lionel Curtis remains a somewhat mercurial figure in 20th-century international affairs. Even in his own lifetime he was disparaged by critics as varied as John Buchan and Harold Laski as a 'mystic' and 'the Prophet'. This strange reputation is further supported by the vast range of global issues to which he applied his prodigious energy, networking and fundraising skills and the influence he was judged by many to wield, especially among the interwar British and American governing and business elites. This is in contrast with his current virtual exclusion from the historical record of a much popularised period.

Curtis was born in 1872 into a British Empire anticipating both its zenith and decline. The youngest of four children of a village rector, brought up far from the machinations of the imperial metropolis in the quiet Herefordshire hamlet of Coddington, Curtis was as much a dreamer as a doer and struggled both at school and subsequently at New College, Oxford, where his third in law left him considering what his future might bring. Yet, after a brief stint as secretary to Canon Rawnsley as he established the National Trust with Octavia Hill, Curtis found his way into service in the Second Boer War and subsequently as an acolyte of the British high commissioner to South Africa and 'high priest' of imperialism, Lord Milner. Curtis became a leading member of Milner's 'Kindergarten', a cabal of young British colonial administrators, largely graduates of New College, many of whom went on to positions of influence. It was here that Curtis husbanded many of the ideas that were to drive his life, founded on the firm belief, curious now but explicable (and indeed not uncommon) in the context, that the British Empire offered a unique, even divinely inspired, opportunity to universalise the stability and justice inherently denied by the sovereign state system. Yet Curtis recognised that this opportunity still lay some way off and that the empire needed to change quickly and in many ways beyond recognition if it was to fulfil its potential. With Canada and increasingly Australia and New Zealand chafing at direction from London and with growing unrest in Ireland, Curtis saw that a much more equal association was the only hope. It was to describe this new form of political bond that he coined the term 'Commonwealth', one which was to live on long after the ideas to which it applied were rejected.
This article is available to History Today online subscribers only. If you are a subscriber, please log in.
Please choose one of these options to access this article:
Call our Subscriptions department on +44 (0)20 3219 7813 for more information.
If you are logged in but still cannot access the article, please contact us
If you enjoyed this article, you might like these: