The Changing Face of the American Family
Since the 1980s the American family has evolved towards greater diversity and complexity. Yet, paradoxically, it is the essentially conservative nuclear family forged in the 1950s that continues to hold sway as a touchstone in US politics and culture, says Tim Stanley.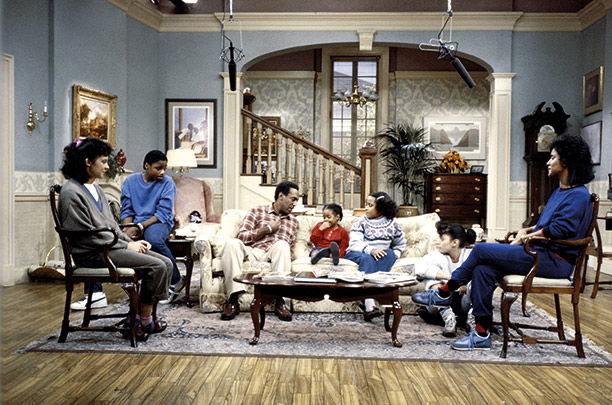 On September 20th, 1984 a new sitcom aired on NBC. The Cosby Show starred Bill Cosby as Heathcliff 'Cliff' Huxtable, a middle-class, black obstetrician living with his wife and five children in Brooklyn, New York. It kicked off with a situation that millions of parents could identify with: Cliff's son, Theo, had come home with a report card covered in Ds. Theo's mother was deeply upset and Cliff was furious. But Theo said that his bad grades didn't bother him because he didn't want to go to college. His goal was to grow up to be like 'regular people' and, if Cliff loves his son, won't he accept him for what he is?

The audience applauded. This was what TV had been teaching them for over a decade, that love and understanding were more important than competition and success. But, to their shock, Cosby's character didn't agree. 'Theo,' he said, 'that is the dumbest thing I ever heard! No wonder you get Ds in everything! … I'm telling you, you are going to try as hard as you can. And you're going to do it because I said so. I am your father. I brought you into this world, and I will take you out!' The audience's laughter was nervous at first, but by the end of the scene they were clapping wildly. Bill Cosby had just turned the liberal logic of TV Land on its head. 'Father knows best' parenting was back.

This scene is discussed in the PBS documentary America in Primetime, shortly to be shown by the BBC. The programme makes the point that because the Cosbys are African-Americans, we might presume that the politics of the show are liberal – sitcoms in the 1970s had tended to use black characters to explore poverty and racism. Yet Cliff Huxtable's old fashioned parenting had much more in common with the optimistic conservatism of the 1980s presidency of Republican Ronald Reagan. The Huxtables were wealthy, professional churchgoers, dominated by a stern father. Alas, among black families their traditional structure increasingly made them the exception rather than the rule. In the America of the 1980s divorce and illegitimacy were rising fast. By 1992, when the show ended, 68 per cent of African-American babies were born out of wedlock. The last episode of Cosby coincided with riots in Los Angeles, the product of economic segregation and black fury at a brutal police force. The show might have started out as a healthy antidote to touchy-feely liberalism, but it ended as escapist fantasy.
This article is available to History Today online subscribers only. If you are a subscriber, please log in.
Please choose one of these options to access this article:
Call our Subscriptions department on +44 (0)20 3219 7813 for more information.
If you are logged in but still cannot access the article, please contact us
If you enjoyed this article, you might like these: