Heads and Tales: A Royal Affair
An 18th-century ménage à trois involving the King of Denmark inspired the recent film, A Royal Affair. Stella Tillyard considers what makes it a story for our times.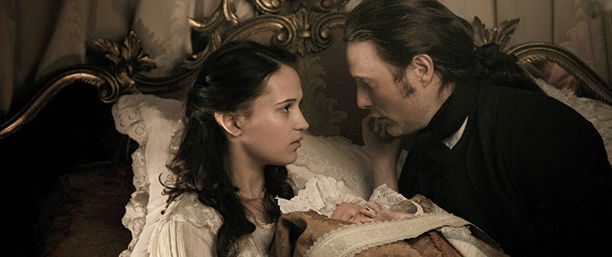 It looks innocuous on one side, a Danish krone, dating from roughly 1771. Turn it over though and you see a crown and, below it, a vagina clearly engraved. The coin is a piece of satire or slander: our queen, Caroline Mathilde, it says, is a whore. In Copenhagen, where the original coin was passed from hand to hand, everyone knew that the queen's lover was a commoner and a foreigner, the German doctor, Johann Struensee. Everyone also knew that the king, Christian VII (r.1766-1808), was disabled by a malady of the mind and unfit to govern the country. Caroline Mathilde, or rather her lover, has usurped the place of the king, says the coin in its crude way.
The first time I turned the coin over in my hand its bluntness and visceral misogyny surprised me, even though I had written a book in which I told Caroline Mathilde's astonishing story. In England in the early years of George III's reign it was similarly often hinted that his mother, Princess Augusta, was not only ruling the country but also having an affair with Lord Bute, the king's friend, former tutor and prime minister. The petticoat and the boot were the images chosen to represent the princess dowager's influence and proclivities; direct enough, but not in themselves pornographic. Of course there was plenty of pornography and slander in Britain, but the libellous fake krone clearly comes from a much angrier environment and it reminds us that the years between 1769 and 1772 in Danish history form one of those historical episodes that defies simple explanation.
In 1769 the German outsider, Johann Struensee, arrived in Copenhagen as the physician and companion to the deranged Christian VII. By the end of that year he had not only made great political strides in a country that had the most complete absolute monarchy left in Europe, but had also become the lover of the queen, George III's youngest sister, Caroline Mathilde. With her agreement, and the acquiescence of the king, Struensee took over the running of the state and attempted to transform Denmark into a model of enlightened absolutism. Struensee and Caroline Mathilde had a daughter; radical reforms multiplied; chaos mounted; enemies massed; violence and tragedy ensued.
Many novels, plays, a ballet and histories have been written about the king, the queen and her lover. The first fictional account, Memoirs of an Unfortunate Queen, was published in London in 1776, only a year after Caroline Mathilde died alone in exile, and others have steadily followed. Now, thanks in part to the surge of popular interest in Scandinavia, the first film to tackle the story has been released. A Royal Affair stars Alicia Vikander and Mads Mikkelsen.
It is a beautiful film, tonally taking its cue from the historical epics of Luchino Visconti. Like these, it builds tension to gathering disaster with visual clues. The director, Nikolaj Arcel, is creditably true to the facts. At no point does he seriously deviate from the historical record. But this is a feature film not a documentary attempt to recreate the past and, like every historical fiction, it is therefore also necessarily a portrait of the present. In a sense after 200 years we have come full circle. The Memoirs of an Unfortunate Queen presented Caroline Mathilde as an advanced radical, cradling her Voltaire as her carriage rolled away from London. For the next century at least the episode was tainted by Struensee's Germanness and regarded as redolent of a violent extremity that had little in common with Denmark's slow evolution into a social democratic state. This film marks a return to a positive version of the story. In his reforming zeal and democratic libertarianism Struensee represents the Denmark that is to come, one that many liberal Danes feel has been compromised by the rightward political turn of the last few years.
Strikingly, however, the film does not so much embellish the past as tone it down. Caroline Mathilde is naturally prettier than her plump blond original. She is also much less angry. The film is framed by her being seemingly reconciled to her exile in a Hanoverian castle belonging to her brother; in life she was furious and spent her years there plotting to regain her throne and the two children she had been forced to abandon in Denmark. She was more daring, too; when her daughter by Struensee was born, she insisted that he deliver their child himself, though the film shows him anxiously waiting outside the room. Similarly Christian VII is brilliantly portrayed by Mikkel Boe Foelsgaard as a childlike, confused figure, who finds a real friend in Struensee. In life, Christian, though undoubtedly intelligent and intermittently full of charm, was a much more extreme personality; violent, delusional and inconsolably terrified.
And the hero of the drama? Struensee was described by the British ambassador as having 'carried freedom of thinking as far as any man' by the time he encountered Christian VII in 1768. The ambassador was alarmed by Struensee's disdain for religion and established authority. 'It cannot easily be determined whether his talents are more formidable, his principles more relaxed or his address more seducing', he reported. These are the qualities of a star and Mikkelsen delivers them; but he is a subtle actor too. His last scene is beautifully gauged and understated. I shan't describe it; you have to see the film yourself.
If you enjoyed this article, you might like these: