The Tango Made Flesh: Carlos Gardel
The tango was to Argentina what jazz was to New Orleans. As Simon Collier explains, it swept the world in the pre-First World War era and Carlos Gardel was its star.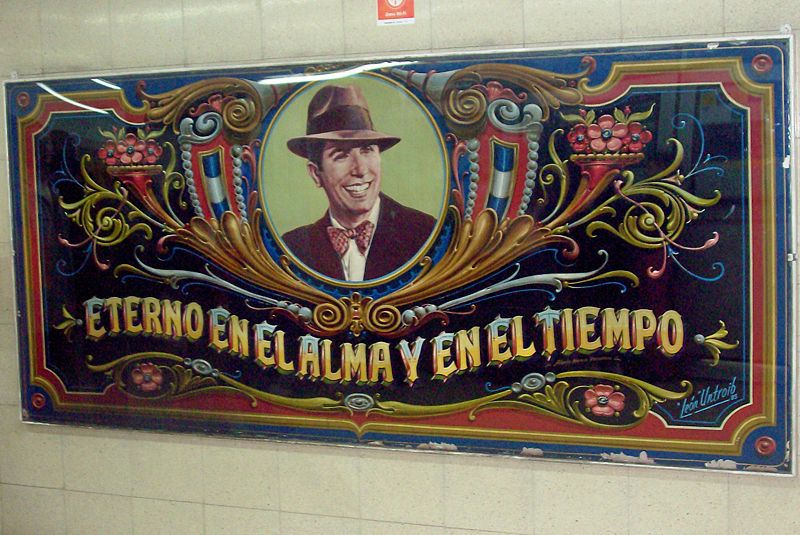 The name of Carlos Gardel is hardly a household word in the English-speaking world. In Latin America, and especially in Argentina, it very definitely is. For many millions of Latin Americans, Carlos Gardel was one of the authentic superstars of his time. Moreover he is still held in extraordinary affection by all who love the irresistible rhythm of the Argentine tango. Gardel was, quite simply, the greatest singer of tangos who ever lived and probably the finest individual talent ever to be associated with this particular form of popular music. He embodied its feeling, its spirit, better than any other artist before or since. In Libertad Lamarque's phrase, he was 'the tango made flesh'. Very few popular singers anywhere in the world have had quite so passionate a following.
The tango developed as a distinctive dance around 1880 in the poorer districts of the city of Buenos Aires, at a time when Argentina was entering an era of prodigious economic growth. Given the 'marginal' and semi-criminal social milieu of its origins the story is very similar to that of jazz the tango was long repudiated by Argentina's high society. Its final social acceptance in the country of its birth followed the period when 'tango- mania' swept Europe and North America, a frenzied craze which reached its climax just before the First World War. In Argentina itself the universal popularity of the dance in an increasingly sophisticated modern society led, at the end of the 1910s, to an all-round improvement in the quality of its music: the improvised, often rather ragged style of the early tango bands rapidly gave way to disciplined playing and polished, ingenious arrangements. It was at this point that Carlos Gardel appeared on the scene. His remarkable talent and flair turned the tango into a popular song, dominant in Argentine tastes for several decades. Gardel himself became its supreme exponent, with the result that by the mid-1920s he was a star of the first magnitude, soon to become the idol of half the western hemisphere.
Gardel's background was obscure, to say the least. He was born at Toulouse, in France, in December, 1890. His unmarried mother, Berthe Gardes, was a toulousaine of very modest circumstances, and in 1893 she went with her small son to Buenos Aires two immigrants among the hundreds of thousands who arrived in Argentina during the years of the great economic boom. In his will, drawn up many years later, Gardel confirmed that his original name, changed for what he called professional reasons, was Charles Romuald Gardes. The facts seem simple enough; they are duly documented in Toulouse and Buenos Aires; there is any amount of supporting evidence. But simple or not, the facts have never satisfied everybody. Gardel was always singularly evasive about his origins ('My homeland is the tango', he once said) and on various identity papers, including passports, claimed to have been born at Tacuarembo, a remote town in Uruguay. (He registered himself as a Uruguayan national in 1920, and took out Argentine citizenship three years later.)
These documents have given rise over the years to an elaborate theory that the great singer was in fact a Uruguayan by birth. The theory does, however, place a good deal of strain on our credulity. We are asked to believe (and these are essential points if the Tacuarembo hypothesis is correct) that Gardel's last will and testament was deliberately falsified; that Berthe Gardes was not Gardel's real mother; that her will was falsified too; and that at some unspecified point before 1900 she agreed to bring up a young Uruguayan boy called Carlos Gardel in addition to her own son Charles what later became of Charles is not explained, though his existence, given the Toulouse birth-certificate, is not actually denied. It all seems fairly improbable.
But why did Gardel, at any rate for form-filling purposes, claim Tacuarembo as his birthplace? The most convincing explanation seems to be that by so doing he was able to avoid liability for military service (non-existent in Uruguay) not least in France, were he ever to return there. Why Tacuarembo? He possibly felt, no doubt with reason, that his statement would be less easily verifiable in a distant rural township than in one of the larger Uruguayan cities. The mystery of Gardel's origins continues to obsess certain writers in Argentina and (especially) Uruguay. But is it really a mystery at all? There are, undoubtedly, several loose ends which remain tantalisingly untied, but there is no good reason for rejecting France in favour of Uruguay. On his European tours in the 1920s and 1930s Gardel several times visited Toulouse and spent time with people he described as his family.
Berthe Gardes found work in Buenos Aires as a laundress, and lived just west of the city centre. Her son's schooldays, though possibly interrupted, seem to have been straightforward enough. A surviving certificate, piously preserved, shows him to have been an above-average pupil. He left school in 1904. The next few years of his life are almost totally obscure, and in the absence of even the slenderest evidence, rumours have abounded rumours that he studied typography, that he worked in a jeweller's that he was mixed up 'in the criminal world, that he was implicated in violent brawls in the brothels of Montevideo, even that he spent time behind bars. All of this is pure conjecture. Whatever he was doing Gardel evidently became very familiar with the various districts of his adoptive city then gradually blossoming into the largest and finest metropolis in the southern hemisphere and especially Abasto, the rather shabby area which took its name from the vast, rambling food-market in Calle (now Avenida) Corrientes, today a very striking building which dominates the neighbourhood. Gardel later bought a house in Abasto; his mother lived there until her death in 1943.
When did he start to use his voice? We do not know. He was a natural talent, and it is very likely that his first, informal appearances were at low-life parties of various kinds, some of them no doubt in brothels, all round the poorer districts. When we next have more or less hard information about him, he is doing a good deal of singing at the Cafe O'Rondeman in Abasto and is also in demand at political gatherings. The four brothers who owned the O'Rondeman were closely connected with the conservative cause. Light entertainment was very much part of the political culture of the time, its vote-pulling power undeniable. Gardel's conservative connections were maintained. In 1912, the year of the Saenz Pena law introducing universal male suffrage in Argentina, he obtained some voting papers through one of the most famous, not to say notorious, political bosses of the time, Alberto Barcelo, a populist-conservative caudillo in the working-class suburb of Avellaneda. Gardel never lost contact with Barcelo, who by the 1930s was a man of importance in Argentina's tortuous politics.
By the time he was twenty or so Gardel had evidently won himself something of a reputation in Abasto and similar districts. Some time in 1911 he met a Uruguayan singer, Jose Razzano, also becoming well known in cafes and at political meetings. As was common at the time, the two entertainers held a singing contest, a kind of duel fought with voices and guitars, before a select audience in a private house in Abasto. The result, officially, was a draw. Soon afterwards Gardel and Razzano formed a partnership with a view to touring some of the small towns of Buenos Aires Province. They had an inauspicious start, but they persisted, and by the middle of 1913 their luck changed for the better. By this stage Gardel was sufficiently well known to be invited to make his first gramophone records. On these six or seven rare discs from 1913 the celebrated baritone voice is faint, to be sure, but it is quite unmistakable.
The next three or four years were a time of growing success and popularity for the Gardel-Razzano duo. They were often invited to provide the finale in variety shows. In 1915 they played to packed houses in Montevideo, and afterwards went on tour to Brazil with a theatrical company. In 1916 there were engagements in many of the main Argentine cities, not least Buenos Aires itself. In April, 1917, the duo was given an important recording contract. By now, in fact, Gardel and Razzano had definitely 'arrived' as well-known popular entertainers. Their repertoire consisted for the most part of folk songs, Argentine country airs, waltzes, sambas, and so on very much the standard fare of the day. They did not sing tangos, for the very good reason that the tango song as an established form did not yet exist. Words had sometimes been fitted to one or two early tangos, but this was a rarity. A more common practice was for a singer to chime in with the band, singing a few desultory phrases towards the end of a piece. But complete songs, in the sense of verses telling a story or describing a situation, were still largely unknown.
This was now to change, with profound consequences for Argentine popular music. In 1915 or 1916 the date is uncertain a writer called Pascual Contursi took a popular tango tune, 'Lita' by Samuel Castriota, and composed a set of verses to fit the music. The text described the agonised thoughts of an abandoned lover sitting in his room, and were spiced with salty terms from lunfardo , the well developed and far from respectable urban argot of Buenos Aires - it contained, in fact, many of the normal ingredients for what was to become the standard mix in tango songs. Gardel was a friend of Contursi's, and sang his song in private on several occasions. He was finally persuaded to try it out in public, and did so at the Esmeralda (now the Maipo) theatre, under the new title of 'Mi Noche Triste' ('My Sorrowful Night'), in 1917.
Quite how quickly 'Mi Noche Triste' caught on is a matter of some dispute, but catch on it indisputably did. When Gardel recorded it the following year, thousands of copies were sold. It was an extraordinarily important moment in the story of the tango. It was some time, however, before Gardel realised that his future lay in the singing of tangos. Not until 1923 did tangos outnumber other types of popular song in his recordings; after 1923, tangos swamped everything else. Gardel had found his true vocation. From then onwards, 'it can fairly be said, it was fame and fortune all the way.
Meanwhile, the Gardel-Razzano duo with frequent tours of the main Argentine cities. It was becoming increasingly clear that Gardel was artistically the dominant figure of the partnership this made for a relationship which at times was far from easy. By 1923 it was time to look further afield. Gardel's first European laurels were won in the theatres of Madrid. One famous incident stands out in this triumphantly ascendant phase of his career. In 1925 Edward, Prince of Wales, descended on Argentina for an official visit, a visit which underlined the close economic links that bound Great Britain to a country sometimes jestingly referred to as the Sixth Dominion. At the suggestion of President Alvear himself, Gardel and Razzano were invited to provide an evening's entertainment for the Prince in the spacious setting of a ranch on the Pampa. Their music so captivated the royal guest that he began accompanying some of the numbers (which included 'Yes, We Have No Bananas!' and 'For He's A Jolly Good Fellow!') on the ukelele he carried round with him on his travels.
Soon after this episode, in September, 1925, a throat infection put an end to Jose Razzano's singing career and the famous duo was dissolved. In. reality Gardel had for several years been a considerable star in his own right. He had conquered Argentina. His records (and, starting in 1925, his occasional broadcasts) had turned him into a firm favourite with the public. They gave him the affectionate nickname of zorzal the zorzal being a melodious South American thrush. To portenos , the proud citizens of Buenos Aires, the jauntily elegant way in which Gardel relished his evident success seemed to embody many of their own inner feelings and social aspirations; he was fast becoming the great city's favourite son.
But by now, the zorzal himself was increasingly attracted by the idea of making a name for himself abroad. In 1925-26 and again in 1927-28 he made highly successful visits to Spain. He went on to score a decisive triumph in Paris, performing at the Florida nightclub in the Rue Clichy and at the Empire music-hall in the Avenue de Wagram. He was the talk of the town, and was acclaimed on the Riviera as well. As he excitedly reported back to Razzano in Buenos Aires, some 70,000 of his records were sold in the first three months of his stay in France. Early in 1929 he appeared at a charity gala at the Opera, and President Doumergue asked him to repeat one of his numbers. 'I am living,' Gardel told Razzano, 'better than a millionaire... I shall buy a colossal chateau in the Bois de Vincennes... so that my friends can come and enjoy themselves...'
The qualities which gave Gardel his great success are naturally somewhat difficult to recapture in their fullness. First and foremost, of course, the zorzal, as his endearing nickname implies, was a superb popular singer. We can still hear the voice, preserved on admittedly imperfect recordings. And it is a fine, rich, resonant voice, making up in expressiveness what it lacks in power. 'That man,' said an American film director hearing Gardel for the first time, 'that man has a tear in his throat.' Gardel's sensitivity to the essence of the songs he sang was unusually acute. The 900 or so recorded songs which form the much-loved Gardel canon display an extraordinary range of feeling lyricism, melancholy, chirpiness, sarcasm, high spirits, wistfulness, nostalgia, and even occasional ferocity. Gardel had a natural sense of rhythm which proved particularly appropriate for tango singing. He worked very hard at his music, and also at creating the kind of 'image' he felt to be the necessary accompaniment to stardom. His grooming was impeccable. The smoothly plastered hair, the elegant three-piece suits, the carefully chosen ties, the perfectly polished shoes he looked every inch the successful star, every inch the smart porteno who had come out on top. His lifelong tendency to corpulence was zealously combated by strenuous exercise in Buenos Aires he frequented the YMCA gymnasium combined with massage and Turkish baths. These punishing routines kept him in excellent physical condition.
Gardel never married. The almost pathological reticence with which he invariably greeted inquiries about his private life served, inevitably, to heighten the atmosphere of mystery with which many writers have been only too eager to surround him. In fact, it seems fairly certain that he had at least one serious and prolonged love-affair which became irksome to him after some years but from which he found it difficult to break free. In Paris in the early 1930s, his association with a very rich, middle-aged English widow (who showered him with expensive presents, including a Rolls-Royce) caused a certain amount of deprecatory comment from those who were in the know. But in general, his friends respected Gardel's desire for privacy in these matters, and very little in the way of definite gossip has survived.
Gardel certainly had a strong preference for masculine conviviality, and always sought company rather than solitude. He was a loyal friend, and left a notable impression of warmth and charm on all who worked with him. His strongest human attachment was probably his mother, with whom, when in Buenos Aires, he lived in the house in Abasto, Estimates of his inner character by those who knew him well are by no means uniform. Terig Tucci, the Argentine musician, thought that Gardel 'possessed an aura of sadness' and since melancholy tends to be the dominant emotion in most tango songs, it might seem a natural attribute of the greatest of tango singers. But the verdict of Armando Defino, Gardel's Buenos Aires representative in the 1930s and later his executor, is quite firm on this point: 'Carlos was not sad. I was with him at the most intimate moments, and he was always optimism itself. Mind you, he was as restless as a migratory bird...'
He made a fortune, of course, but was never miserly. Generous to a fault, he also favoured a big-spending style of life which made his financial position somewhat unstable at times. His greatest passion outside tango music, an irredeemable addiction to the turf, was scarcely an inexpensive one. He owned several horses, none of them at all successful, and when he was in Buenos Aires no Sunday was allowed to pass without a visit to the great racecourse at Palermo. One of his closest friends was the famous Uruguayan jockey Irineo Leguisamo in whose honour a tango was written. Several of Gardel's best known songs, in fact, allude very directly to this deep love of racing, and the gambling that went with it. Other sports attracted him less. He had no real intellectual interests, though could certainly appreciate classical music: he was entranced by a performance of Mahler's 'Song of the Earth' (under Bruno Walter's baton) at the Carnegie Hall, New York. Politics almost completely absent as a theme in tango songs never loomed large in his imagination. The early political contacts that have been mentioned inclined the zorzal to the conservative cause, though perhaps accident and friendship had more to do with this than deeply-held conviction. In September, 1930, the Radical government of President Hipolito Irigoyen, one of the most popular Argentine politicians of the twentieth century, was overthrown by the army. It was the end of close on seventy years of constitutional rule. Three weeks later Gardel blithely recorded a tango which celebrated the coup d' état . 'Proud of being Argentines, we trace our new destiny!', he sang. Not all his compatriots agreed.
At the end of 1930, obviously unconcerned by the shape of Argentina's new destiny, Gardel once again set off for Europe. 'Buenos Aires is very nice,' he told a reporter, 'but when one has known Paris, when one has seen the Cote d'Azur, when one has enjoyed the applause of kings, it no longer quite satisfies.' Gardel never lost his deep affection for Buenos Aires; he never forgot that his roots were there; he knew that its music was the foundation of his fame; yet he was unquestionably searching for a new turning in his career. He found it in the cinema. In 1931 and 1932, Gardel performed in four films, all of them shot in the Paramount studios at Joinville, near Paris, and all built around his singing. He revealed himself as no mean composer of songs for these films, the words (and in fact most of the film-scripts) being supplied by Alfredo Le Pera, a young Argentine journalist then working in Paris. Gardel and Le Pera were soon firm friends, and their collaboration was close and creative. For many fans, the film songs represent the heart of the Gardel canon. The popular verdict has not gone unquestioned. The novelist Julio Cortazar, for instance, affects to see a decline in quality from the standard of the pre-electric recordings of the early 1920s. One suspects that this is little more than a gratuitous piece of one-upmanship of a kind sometimes favoured by certain literary intellectuals. The public of the 1930s loved the songs. In cinemas in Spain and South America, audiences sometimes obliged projectionists to stop the film and turn back the reel so as to provide encores of the most popular numbers.
The immediate success of Gardel's films impressed the Paramount organisation, then trying hard to establish itself in the Spanish-language market, and a new contract was duly offered. Gardel spent the first ten months, of 1933 back in Argentina, broadcasting, making records and touring the main cities. At the end of that year he travelled (by way of France) to New York to resume his career as a film star. There were four more films, shot at the Astoria studios just across the East River from Manhattan. It cannot be claimed that they are great classics of international cinema, or that the zorzal himself was as great an actor as he was a singer, although it is fair to say that his acting technique steadily improved with each new movie. While in the United States, Gardel also broadcast over the NBC radio network. New York itself quickly exerted its deep allure: Gardel lived in some style in midtown Manhattan, did the obligatory round of sightseeing, and, among other things, became particularly fond of a small Italian restaurant in West 54th Street. He was, inevitably, the toast of the city's already numerous Latin American community.
Gardel did his last two films for Paramount early in 1935. By common consent they are his best. He was eager to expand his growing reputation as a film star, but whether with Paramount or some other company, whether in Paris or Hollywood, he was not sure. For the spring and summer of 1935, in response to insistent demands from local impresarios, he mapped out a series of personal appearances in the countries around the Caribbean. The tour once finished, he intended to return to the United States, to collect his mother from France (where she was then staying), and then to head once more for his beloved Buenos Aires. He was full of hopes for a film company of his own, and had already discussed the possibility of such a venture with the enterprising tango bandleader Francisco Canaro.
The Caribbean tour began in April, 1935, in Puerto Rico. Gardel's entourage included Le Pera, an Argentine servant boy, a teacher of English, and two guitarists. Puerto Rico, Curacao, Venezuela full houses and popular adulation marked the great star's triumphal progress. Next came Colombia, with stops at Barranquilla, Cartagena, Medellin and finally the capital, Bogota, where several thousand fans flooded on to the airfield and almost prevented Gardel's plane from landing. Gardel had an intense aversion to air travel, but Colombia's uncompromising geography gave him no real alternative, especially since he wished to get the tour over and done with. He stayed ten days in Bogota. On Sunday, June 23rd, he did a broadcast from one of the local radio stations, a dense crowd cramming the square outside. Before singing the final tango of the programme, Gardel thanked his listeners for the wonderful welcome he had received in Colombia. 'I do not know if I shall return here,' he said, and then added the old Spanish phrase, 'If man proposes, God disposes.'
The following day the party set out for Cali, where 5,000 tickets for Gardel's appearance had already been sold. The aeroplane, belonging to the Colombian airline SACO, flew first to Medellin, where a large crowd of fans had gathered at the airfield to greet the star, even though his stop there was no more than fifteen minutes. He and his friends then returned to the plane for the second leg of the journey. To one side of the runway, meanwhile, a Ford trimotor airliner of the German-owned SCADTA line, its engines already running, was waiting for its turn to take off. The SACO plane taxied to the northern end of the field, turned, and roared down the runway. It was 3.10 in the afternoon. Some 700 yards or so into its takeoff, the plane went abruptly out of control and plunged into the waiting Ford trimotor. Within seconds, cruel tongues of flame engulfed the two aircraft. Five passengers fought their way out of the blazing wreckage. Gardel, Le Pera and fifteen others were trapped in the flames. The Medellin fire brigade raced to the scene with exemplary speed, but it was too late. The zorzal was dead.
An official inquiry later blamed the tragedy on a sudden, fierce gust of wind from the south-east some ten seconds or so before the collision. Such gusts were evidently not uncommon. Once again, however, the story has been considerably embellished by writers determined to add still further elements of mystery to the singer's biography. Some maintain that Gardel and the Colombian pilot of the SACO plane, Ernesto Samper, had quarrelled, perhaps over a woman., and came to blows while the aircraft was taking off even that there was a gun-battle aboard the plane. This is difficult to square with the fact that the two men had been seen conversing very amiably in the airport bar only a few minutes beforehand. An alternative version is that the pilots of the airliners were old rivals, and that Samper wished to demonstrate his flying skill by 'buzzing' the Ford trimotor while taking off. The confused statements of the survivors do not lend much support to these speculations.
Monday, June 24th, in Buenos Aires was a winter's day cold, wet and miserable. The news arrived in time for the evening papers. Jose Razzano was coming out of an underground station when the appalling headlines caught his eye. Armando Defino was discussing a possible radio contract with the music publisher Julio Korn when their business conversation was interrupted by a telephone call. The great metropolis was stunned. The tango world, the world of popular entertainment in general, paid its tearful homage. Libertad Lamarque, trying to sing a tango in tribute, suffered sudden dizziness; her theatre audience fell silent. Far away in New York a young female admirer of Gardel's went to the hotel where he had been living and poisoned herself. With the consent of Berthe Gardes, the singer's charred remains were repatriated from Colombia; they reached Buenos Aires in February, 1936. The funeral procession to the Chacarita Cemetery up seventy blocks or so of Avenida Corrientes (a street often regarded as the spiritual heart of the tango world) attracted one of the very largest crowds in the modern history of Argentina. The government, in deference to the popular mood, issued a somewhat unusual decree: for twenty-four hours no tangos were played, sung or danced anywhere in the republic.
We have no way of telling what might have become of Gardel's career had he lived beyond his forty-four years. There would have been more work in films, no doubt, and he might well have tried to cross the language barrier and break into the all-important North American market as a kind of second Valentino. It was probably with this in mind that he was taking English lessons in the months before his death; and it seems likely that Paramount was interested in some such venture. Whatever the truth of the matter, one thing is clear. The circumstances of his death won Gardel a new, posthumous career. It is possible that his lengthy absences in Paris and New York had been slowly undermining his popularity at home in Argentina, whatever they may have been doing for his wider reputation. The disaster at Medellin added the necessary dimension of legendary tragedy. Almost the strangest aspect of the story, indeed, is the way in which the memory of the zorzal has been so assiduously kept alive.
Since 1935 not a single day has passed when his records (long since reissued on LPs and even in the form of a monumental series of box sets) have not been played over some radio station or other somewhere in South America. (In the mid-1970s an attempt was made to combine Gardel's voice with a new orchestral backing supplied by the band of Alfredo de Angelis; the interest aroused by this experiment speaks volumes.) The films have been revived on countless occasions in local cinemas in Argentina. (And at least a dozen films portraying Gardel's life have been made since 1939.) Every June 24th brings forth a new harvest of editorials and radio and television programmes. And, as so often in such cases, incredible rumours that Gardel did not really perish that dreadful afternoon in Medellin have occasionally enjoyed a fleeting hold on the popular imagination. In the late 1940s, for instance, there were claims that he had been seen, horribly disfigured, wandering through Central America.
There have been many explanations for the obdurate persistence of the Gardel cult for cult is what it is. Psychologists, literary critics, sociologists and others have displayed much ingenuity and imagination in their search for the underlying secret of Gardel's immense (and unrivalled) posthumous popularity - the feelings which send portenos , flowers in hand, to the Chacarita Cemetery every day of the week, and which prompt them, sometimes, to place a lighted cigarette in the right hand of the life-sized bronze statue that stands beside his tomb. Could it just possibly be that people are still entranced by the songs themselves, by the unmistakable rhythm of the tango, that marvellous Argentine creation which was given so perfect a vocal form by the man with the tear in his throat?
If you enjoyed this article, you might like these: