King Arthur and the Church
Often portrayed as a paragon of Christian virtue, the real King Arthur was an embarrassment to the Church, writes Simon Andrew Stirling.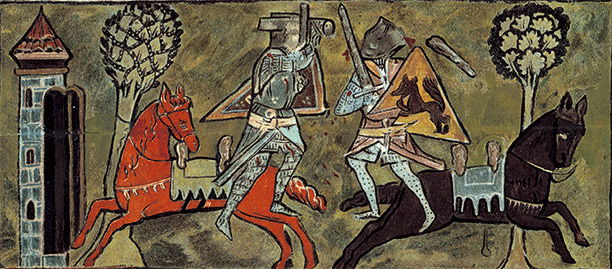 Caesarius, a Cistercian monk at Heisterbach, near Bonn, told a revealing story in about 1220. The abbot at the time, Gevard of Heisterbach, was preaching when he realised that the monks of his chapter were dozing. Gevard suddenly exclaimed: 'Listen, I have something new and wonderful to tell you! There was once a king whose name was Arthur ...' Instantly the monks were rapt with attention. The abbot had proved his point: even the Cistercian brethren were more interested in the legends of Arthur than the Scriptures.

The European craze for all things Arthurian was at its height. A 'well-known storyteller' named Bleddri latimer ap Kadifor had travelled from Wales to Poitou in western France early in the 12th century, bringing with him the tales of Arthur and his heroes. Later French romancers would alter Bleddri's name to Bleheris, Blihis and, eventually, Blaise, the 'master of Merlin' and an authority on the legends of the Grail.

Bleddri told his tales to the Count of Poitiers – probably William VII, whose granddaughter Eleanor of Aquitaine inspired a widespread fascination with the Arthurian legends, not least through her patronage of such poets as Robert Wace (whose Roman de Brut introduced the Round Table to European literature) and Chrétien de Troyes, who built on Bleddri's legacy in his romances of Lancelot, Yvain, Perceval and the Graal. Europe was soon thrilling to the stories of Arthur and his knights. The Lais of Marie de France, Béroul's Tristan, the anonymous Queste del Saint Graal and Wolfram von Eschenbach's Parzival all appeared within a few short years of each other.
This article is available to History Today online subscribers only. If you are a subscriber, please log in.
Please choose one of these options to access this article:
Call our Subscriptions department on +44 (0)20 3219 7813 for more information.
If you are logged in but still cannot access the article, please contact us
If you enjoyed this article, you might like these: