The Jacobites: Romantic but Realistic
Sarah Fraser examines Bruce Lenman's 1980 article on Jacobite exiles, part of a vigorous, influential rebuttal of a worn-out image.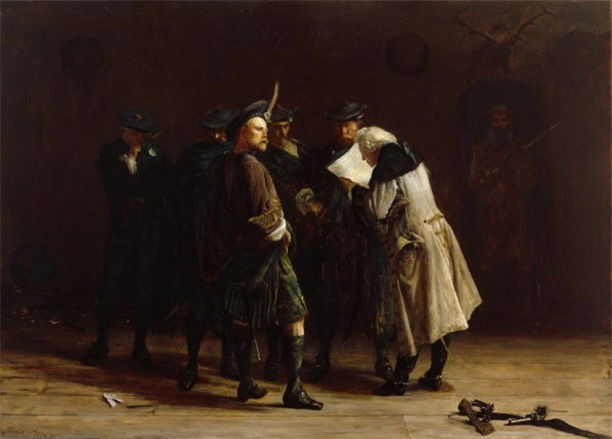 The Jacobites have always inspired writers, musicians and painters. The Whig interpretation of history also favoured the colourful view of Jacobites descending like Icarus from brave hearts to bleeding hearts, drifting in a melancholic daze, rueing lost chances. Yet this vision left Jacobitism up a creek, cut off from history's changing narratives, there to rot picturesquely until reformed into myth by the Romantics' love of ruins.
Bruce Lenman revisited contemporary accounts and emerged with a different story, placing Jacobites closer to the centre of 18th-century British historical discourse. As Lenman pointed out, thousands of Jacobite exiles adapted well to change. They went from being refugees to successful labour migrants, until 'a network spread all over 18th-century Europe, from Sweden to Naples and from Spain to Prussia'. Telling their stories, Lenman rehabilitated them from masters of the art of heroic failure, to principled but practical people.
In books such as The Jacobite Clans of the Great Glen (1985) Lenman explored vividly the lives of Jacobite clan chiefs who stayed in Scotland. These men juggled allegiance to the culture and society of the clans, to the Stuarts and (often) to Scottish nationalism, while responding positively to pressures for more integration with the evolving British state. Some Jacobite chiefs formed independent companies of Highland soldiers for the government (to become the Black Watch and regimented British soldiers after 1743). Some capitalised on native commodities such as timber and salmon to generate much needed income.
Many of the chiefs' dealings illustrated complications facing Britain at large. A.I. Macinnes in Clanship, Commerce and the House of Stuart (1996) also traced this relationship between inherited land and culture and external pressures to negotiate with a more powerful state. Robert Dodgshon's From Chiefs to Landlords (1998) thought the conclusion of this process led to transition from an atavistic enthusiasm for a lost Scottish sovereignty and a beloved semi-tribal clan culture, towards an acceptance of the mature adult world of colony, capitalism and empire. The Jacobites got dropped on this path. In Lenman's more nuanced reading, Jacobite migrants also wove inherited and novel allegiances into a workable whole – the way many of us do.
More recently historians such as Paul Monod and Daniel Szechi have undertaken the next stage of salvaging Jacobitism from its mythology, towing it back into the historical mainstream. They emphasised another aspect of it: the potential for the cause of the Stuarts to intervene in the British state. Monod has re-evaluated the history of Jacobitism outside Scotland, noting how many riots against the accession of the Hanoverian George I broke out in 1714; about 80 in England and Wales alone.
Meanwhile Szechi called the uprising of 1715 'the great Jacobite rebellion', the one that could and perhaps should have succeeded. Beyond a core of 'confessional' Jacobites, he showed that substantial numbers in Great Britain were discontented with life in the newest embodiment of a united kingdom. Huge numbers were economically stressed by some of the effects of Union in 1707.
To compound ordinary people's struggles, in 1714 they suddenly faced the probability of undesirable levels of British involvement in continental European affairs at the accession of George I. The motto on the banner flying above the Jacobite rebel camp in 1715 read: 'No Hanover. No Union.' Many, from all four countries, could have rallied under that flag.
Most Britons were sceptical about being dragged into continental European fights in order to defend the new king's native interests in times of trouble, especially if it meant paying for him to protect and promote them. The diverging economic and social concerns of such varied British constituencies as existed then only rarely converged. The Jacobites could have exploited the moments of divergence to strike a killer blow. The historians are equally compelling on why they failed.
If you enjoyed this article, you might like these: