Bikinis and Breastplates: Joan of Arc and Brigitte Bardot
Richard Vinen ponders the political significance of two of France's most potent female icons and finds there is more to them than meets the eye.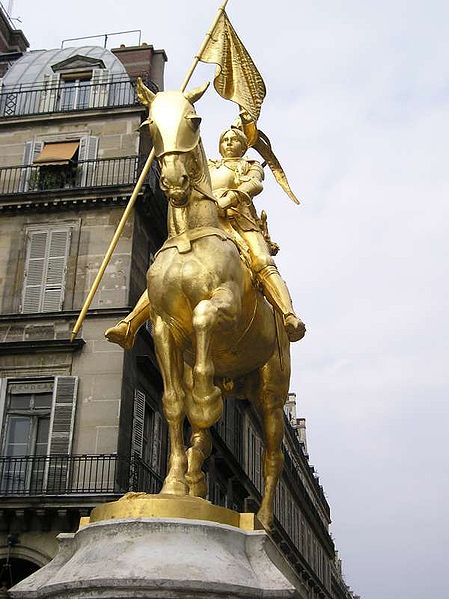 Joan of Arc, the saint, was born to a peasant family in Lorraine, eastern France, in 1412. At the age of fifteen she heard the voices of St Michael, St Catherine and St Margaret urging her to free France from the English and to see that the dauphin, the future Charles VII, was crowned king. She put on armour, cut her hair and led an army to relieve the siege of Orléans, before attending Charles's coronation in Reims. In 1430 she was captured by the English, convicted of heresy and burned at the stake. Brigitte Bardot, the film star, was born into the Parisian bourgeoisie in 1934. Her public career also began at the age of fifteen, when she appeared on the front cover of Elle magazine and met the film director Roger Vadim, who was to make her famous seven years later in And God Created Woman (1956).
Apart from attaining fame early, the two women do not seem to have much in common. Joan was poor and died young; Bardot is rich and has reached her seventies. Joan is the second most famous virgin in Christian history, noted for the androgyny of her appearance; Bardot, famous for exaggerated femininity, railed in 2003 against women who wore military uniform or held positions of command, she was writing shortly after Chirac appointed a woman a Minister of Defence. Bardot, received by the Pope in 1995, has been accepted by the Catholic hierarchy in a way that Joan never was during her lifetime, and Joan (whose life has inspired films by Cecil B. de Mille, Robert Bresson and Luc Besson) is a major figure in the history of cinema in a way that Bardot is not.
Joan of Arc and Bardot do, however, have one important thing in common. Both are associated with French political icons. Joan fought under the cross of Lorraine, which five hundred years later became associated with the French struggle against the Germans during the Second World War and especially with General Charles de Gaulle – of whom Winston Churchill famously remarked: 'he thinks he is Joan of Arc but I cannot get my bloody bishops to burn him'. The cross of Lorraine remains the symbol of Gaullism – and the huge cross of Lorraine on a hillside outside the general's home town of Colombey-les-Deux-Eglises remains the most important sacred site of Gaullism. Incidentally, the house that Joan occupied in Orléans now stands in the 'Place du Général de Gaulle.'
Brigitte's association with a political icon began in 1969 when the sculptor Alain Gourdon chose her as a model for a new bust of Marianne – the name given to the female figure that has represented the French Republic since the nineteenth century. It was meant as a joke (like the reggae version of the Marseillaise recorded by Serge Gainsbourg who, rather predictably, once had an affair with Bardot) and might have remained so had the bust not succeeded in capturing the public imagination. Since Bardot, a galaxy of famous women – film stars, singers and models – have been chosen to model Marianne. Laetitia Casta, chosen in 2000, was the first official Marianne to be elected by France's more than 36,000 maires, who are for the most part middle-aged men.
In some respects, Marianne and the cross of Lorraine stand at opposite ends of the French political spectrum. Republican France, which looks back to the French Revolution as the font of political virtue, is very different from monarchist France that looks back to the alliance of Church and State believed to have characterized the Middle Ages. Monarchists sometimes derided the Republic as la gueuse (tramp or whore) – terms that were often applied to Bardot during her early career – but even within the Republican tradition, the cross of Lorraine and Marianne stand for very different things. General de Gaulle chose the cross of Lorraine as the emblem on the medals that were struck to mark his accession to power in 1958. It is, therefore, a symbol that seems to sum up the centralization and strong executive power of his Fifth Republic. Marianne is associated with a different kind of Republican politics. Busts of Marianne are most common in the mairies of small towns in provincial France – Thiron Gardois in Eure-et-Loir was the first village to install the Bardot Marianne bust – and Bardot stands for a rather Clochemerle-esque France that fits more easily with the Fourth Republic of 1944-58 than the Fifth: just before de Gaulle's return to power, Bardot played the daughter of an amiably unprincipled French prime minister in La Parisienne.
The division between Joan (and the cross of Lorraine) and Bardot (and Marianne) is not clear-cut, however. The modern French movement that makes most reference to Joan of Arc is Jean Marie le Pen's Front National (FN). Le Pen keeps a statue of Joan in his office, quotes her frequently and organizes an annual demonstration 'Joan's Day' each year. (As a parenthesis, it should be noted that the day of St Joan is traditionally May 8th, the day on which she relieved the siege of Orléans, but in recent years, the FN has celebrated it on May 1st – ostensibly because it wishes to be associated with a date that is important in working-class history. Sharp-eyed students of French political symbolism, however, may also note that May 8th is the day on which the French celebrate the Allied victory in the Second World War. May 1st is the feast day of Saint Philippe, and consequently matters to those who remember the government of Philippe Pétain with nostalgia.) But Le Pen is also associated with Bardot – partly because the fourth and most durable of her husbands, Bernard d'Ormale, is an old friend of Le Pen's and campaign manager for the FN, and partly because Bardot's own views, particularly her hostility to Islam, have run quite close to those of the FN in recent years.
Perhaps the best way to understand the oddly intertwined images of Brigitte Bardot and Joan of Arc is to begin by looking at how those images originated. Joan of Arc has been a major figure in French Catholic imagery since the fifteenth century – she was rehabilitated by the Church soon after her death. However, she was not canonized until 1920, and much of her importance lies in the ways in which she ties in with relatively recent French concerns. In 1841 the historian Jules Michelet presented a 'left-wing' Joan of Arc, who expounded the nationalism of the French people. It was partly to reclaim Joan from her left-wing admirers that in 1869 the Catholic hierarchy began the formal procedures that would eventually lead to canonization.
Joan of Arc's association with Lorraine made her an obvious symbol of nationalism when this province was lost to the Prussians in 1870; the most famous statue of Joan – that in the Place des Pyramides in Paris – was erected in 1874. Rationalism as well as nationalism added to the complexities of her myth. The Third Republic (1870-1940) laid great emphasis on education and science. The cult of an illiterate peasant seemed to fly in the face of all this. But for young men in elite Paris schools, the very people most touched by the nationalist revival of the late nineteenth century, the irrationality of the cult of Joan provided a large part of its appeal, and for them she became an emblem of generational revolt against their teachers, as well as an emblem of political revolt against the Republic. The conflict over Joan crystallized around the figure of Amadée Thalamas, a Jewish history teacher at the Lycée Condorcet who was transferred when parents complained that he had denigrated Joan of Arc. Later Thalamas's lectures on Joan at the Sorbonne became an occasion for violent protest by right-wing students.
During the First World War the Union Sacrée supposedly forged between Church and State created a new need for a specifically national saint, and 1920, the year of Joan's canonization, also saw the institution of a national day in her honour and the restoration of French diplomatic relations with the Vatican. In the interwar years St Joan of Arc became more than ever an icon of French military patriotism – when the Academie Française paid homage to her memory, Marshal Foch led the tributes. Right-wing thinkers embraced the cult of Joan: Robert Brasillach, who was to be shot for collaborationism in 1945, edited a version of her trial; Paul Claudel, the diplomat and poet who dedicated odes to both Pétain and de Gaulle, wrote the opera-oratorio Jeanne d'Arc au bûcher (Joan of Arc at the Stake); and the Catholic writer Georges Bernanos even married Jeanne Talbert d'Arc, descended from Joan's family.
The cult of Bardot is also tied to a particular time, the 1950s and 1960s. This was a period of rapid economic expansion and social change in France. If, in her novels about fast cars and casual love affairs, the teenage novelist Françoise Sagan (François Mauriac's 'sacred little monster') provided the words for this social revolution, Bardot provided the pictures. She became a kind of brand image and symbolized a paradox of the new France – that qualities seen as 'quintessentially French' could be used to sell France to foreigners. Bardot, who speaks English with a strong accent, never made it in Hollywood, but her films often made more money in America than they did in France. Jean-Jacques Servan Schrieber, the left-wing magazine editor who was much interested in modernization and Franco-American competition, said that Bardot was as valuable to French exports as 'Roquefort cheese or Bordeaux wine'. Bardot's image also relates in interesting ways to that other great brand image of France in the 1960s – Charles de Gaulle. The years of de Gaulle's reign – 1958 to 1970 – coincided pretty closely with the years during which Bardot's fame reached its peak. But Bardot's image could not be more remote from that of de Gaulle. There is more to this than simple politics: Bardot illustrates an interesting oddity of de Gaulle's France. The general ruled over a country that celebrated its new prosperity with displays of consumption and hedonism, but de Gaulle himself was an austere figure from the Northern Catholic bourgeoisie (his mother once regretted that le bon dieu had not seen fit to devise a more seemly method by which women might conceive children). Symbolic of the gulf that lay between de Gaulle and his people was the cult of the beach. In the 1960s Club Med offered cheap holidays in coastal resorts; Saint Tropez was transformed from a fishing village into a town for the super rich. Bardot owned a house in Saint Tropez and was often photographed in a bikini. De Gaulle, who could barely swim, always disliked beaches. Is it any accident that the beach became a favourite symbol for de Gaulle's enemies? Right-winger Jean-Louis Tixier-Vignancour, running against de Gaulle in the presidential elections of 1965, took his campaign on a tour of holiday beaches; when the Paris students tore up cobblestones in 1968, they shouted 'sous les pavés, la plage.'
And so back to political icons. Because Joan has been dead for several hundred years and left little written trace of her own opinions, later leaders have been able to attribute almost any position to her. Joan is most potent as a symbol of the Catholic Right, but the anti-clerical left pointed out that she was born in humble circumstances and burned by order of the Catholic hierarchy. In the late nineteenth century, Dreyfusards celebrated Joan as the victims of judicial errors; anti-Dreyfusards celebrated her as an exemplar of unquestioning loyalty to the state. During the Second World War, resistants pointed to her role in repulsing the invader whilst collaborationists stressed her anti-English feeling. De Gaulle probably found both elements attractive.
Two relatively recent books illustrate the complexity of the uses to which the myth of Joan may be put: Daniel Bensaid's Jeanne de Guerre Lasse (1991) and Edouard Balladur's Jeanne d'Arc et la France. Le Mythe du Sauveur (2003). Bensaid was a leader of the Trotskyite Ligue Communiste Révolutionnaire. Writing at a time when the cool logic of capitalism and globalization seemed all conquering, he lauded Joan as a symbol of mysticism in politics (his book attracted admiration from some on the right). Balladur, a former prime minister and a studiously rational conservative who admires Voltaire, is at the opposite end of the political spectrum. His book on Joan, while admiring, insisted that her 'myth' was no longer relevant to France: 'the recourse to the myth of Joan, so frequent for two centuries, was the proof of the incapacity of French society to obtain a regime that was regarded as legitimate by all ... It is time for France to become truly a society of men who want to be in charge of their destiny, that is to say a republic.' Why a former prime minister should spend his valuable time writing about a myth that had ceased to be relevant is made clear by Balladur's repeated references to that other great 'saviour' of France, Charles de Gaulle. Questioning the myth of Joan provided Balladur, still nominally a Gaullist, with an indirect means of arguing that the myth of the general himself should be removed from French politics and, of course, with a means of attacking his own more traditional rivals within the Gaullist movement.
Bardot's political imagery is simpler. In her youth, left-wing opinions were sometimes attributed to her. This was partly just because people assumed that someone who attracted disapproval from Catholic conservatives must be left wing. It was also because of one incident in 1961 when Bardot was approached by someone claiming to represent the right-wing terrorist Organisation de l'Armée Secréte (OAS), fighting in defence of French Algeria. He demanded that she provide money for the movement; Bardot's refusal and her insistence that 'she did not want to live in a Nazi state' were given wide publicity. In fact, the person who approached her was probably a con man rather than an OAS fundraiser, and Bardot was not a clear-cut opponent of French Algeria – she first met Jean-Marie le Pen when both of them were visiting wounded French soldiers back from Algeria in 1962.
Bardot's recent flirtation with the extreme right, and particularly the anti-immigrant views that she expressed in her book Un Cri dans le Silence (2003), have outraged many on the French left. Many have seen Bardot's recent political adventures as a 'betrayal' of her own origins. In this sense, Brigitte Bardot does resemble Joan of Arc. The political significance of both depends more on views that subsequent writers and politicians have attributed to them than on anything that they said or did. Shortly after the publication of Bardot's book, and an associated television appearance, the left-wing newspaper Libération published an article in which it was imagined that Brigitte Bardot could hear a disembodied voice rebuking her for her recent outburst and urging her to return to her 'true vocation.' The voice, however, was not that of a saint but of 'BB', the youthful, and supposedly 'real', identity that the aged Brigitte Bardot had abandoned.
If you enjoyed this article, you might like these: