How Oil Became King
The great historical shifts in energy use, from wood to coal, to oil, nuclear power and beyond, have transformed civilisation and will do so again, as Richard Rhodes explains.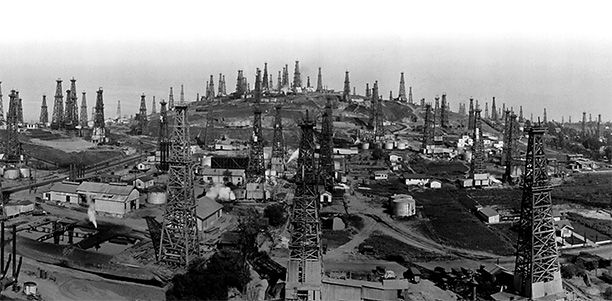 The history of energy transitions – from wood to coal and from coal to oil as well as natural gas and nuclear power – is a long one. Energy transitions take time, as Arnulf Grübler of Yale's Environment School points out:

Hardly any innovation diffuses into a vacuum. Along its growth trajectory, an innovation interacts with existing techniques … and changes its technological, economic, and social characteristics … Decades are required for the diffusion of significant innovations and even longer time spans are needed to develop infrastructures.

The diffusion process is one of learning and humans learn slowly. The substitution of coal for wood was fundamental to the Industrial Revolution. Coal had been used for 3,000 years, but only marginally. Its characteristics were wrong for a society organised around burning wood, compared to which it was dirty: it required different skills and technologies to collect and distribute and its smoke was more toxic. In Tudor England, where wood smoke was thought to harden house timbers and disinfect the air, chimneys were uncommon; the smoke from fires was simply allowed to drift out of the windows. But 16th-century London suffered from a problem familiar to cities in developing countries today: as they grew, an ever greater area around them became deforested and, as transportation distances increased, wood became more expensive. The poor switched to coal, which the rich resisted, as the atmospheric chemist Peter Brimblecombe points out:

Even in late Elizabethan times the nobility still objected strongly to the use of the fuel. Well-bred ladies would not even enter rooms where coal had been burnt, let alone eat meat that had been roasted over a coal fire, and the Renaissance Englishman was not keen to accept beer tainted with the odour of coal smoke.

Brewing, however, was one London industry that turned to coal as wood and charcoal became scarce; so did dyers, lime-burners and salt- and soap-boilers. The nobility began to accept the transition after Elizabeth I's death in 1603, when the throne passed to James I, already James VI of Scotland. Scottish nobles faced wood shortages earlier than the English and had access to less sulphurous coal, 'so the new king used the fuel in his household when he moved to London', according to the historical demographer Tony Wrigley.
This article is available to History Today online subscribers only. If you are a subscriber, please log in.
Please choose one of these options to access this article:
Call our Subscriptions department on +44 (0)20 3219 7813 for more information.
If you are logged in but still cannot access the article, please contact us
If you enjoyed this article, you might like these: